Best of What's Next: The Civil Wars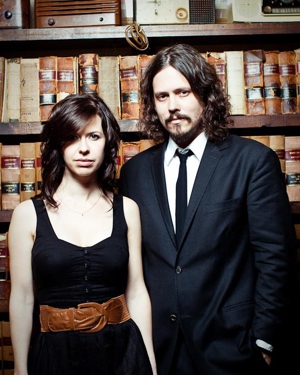 Hometown: Santa Cruz, Calif./Florence, Ala.
Members: Joy Williams and John Paul White
Album: Barton Hollow
For Fans Of: The Swell Season, Buddy & Julie Miller, Ray LaMontagne
Their name may indicate otherwise, but internal discord has never been a problem for The Civil Wars. When they're not cracking jokes or singing each other's praises, Joy Williams and John Paul White are crafting striking harmonies that even Abe Lincoln and Jefferson Davis would have to agree upon.
And as long as we're clearing things up, the duo did not meet at a circus in Paris, nor did they first lay eyes upon each other in a methadone clinic — although you may have heard that was the case.
"We like to tell people that we did, but we actually met at what's considered a songwriting camp," Williams laughs. She and White found themselves assigned to the same room in Nashville two years ago to work on a song, and the rest is history.
"We both have been and are solo artists and have, I wouldn't say been there and done that, but we've seen the good and the bad, and we've tasted a little bit of both, and so I think we were both kind of in a weird place at the time of, 'Where am I heading at this moment?'" White says. "So the last thing on our minds I think was doing anything collaborative, doing a duo or something like that, but it went so well that we got back together to write again and once we went in the studio just to do demo recordings of the songs, it was pretty evident that at least for me, it was a complement to my voice and to my writing that I'd never been around before, and I sure didn't want it to get away without trying to at least see where it could head."
Williams says she felt the musical connection with White the first time the two sang together. "It was just this weird sort of thing where I knew where he was going when he'd start singing and vice versa," she says. "So it really was a little bit mysterious, and I think we both followed the muse for a while and both of us without telling each other sort of ignored it for a while or didn't admit it, but at a certain point, John Paul mustered up the courage after a series of demos to ask —"
"That's right," White cuts in. "I started getting a little like scuff my toe on the ground, like, 'So, I don't know what you're doing for the next, I don't know, 30 or 40 years…' Something like that, you know how it goes. 'You're a good singer, and I've got a guitar.' It was a little like that, not knowing she was into it too, so it all worked out. I'm not real good with rejection, so I'm happy it worked out the way it did."
Williams laughs: "Yeah, I'm still trying to figure out when I can dump him."
"Too late," he says. "I know where you live."
The pair, whose full-length debut Barton Hollow drops on Feb. 1, may seem like a bit of an odd couple on paper. Williams is a chatty California native, originally hailing from Santa Cruz. White, who calls Alabama home and by his own admission is not quite comfortable with the spotlight, is talking to us while in line at an Ace Hardware.
However, they've managed to mix their styles together to create a sound that's unique to the both of them. "I love the blend of what has happened, that I am collaborating very much with a Southern gentleman," Williams says, adding, "If we hadn't been in that same room together there would have been no way we'd written what we'd written."
The duo reteamed with Charlie Peacock, who produced their Poison & Wine EP, for Barton Hollow. "We just figured don't fix it if it ain't broken," White explains. "He was such a great facilitator and could hear what we were asking for and liking and not liking and knew exactly which buttons to push and which person to push until we got where we ended up, so we felt like that was the way to go to do it again on the full-length, and I definitely have no reservations about that because I don't know if I could be much more proud of a record as I am this one."
So proud, in fact, that he and Williams have both put their solo careers on the back burner for now, making The Civil Wars their main project.
"To me, I'm 100 percent in what's happening with The Civil Wars," Williams says. "I would love to be in this band as long as the band is able to function and make music that moves people and moves us, and I think what's great about the band is that there is also room for us to still co-write with other people and for me to do solo work, but I mean, we're hitting the road and we're not looking back once the full-length happens." She pauses. "What would you say to all that, JP?"
"I would wholeheartedly agree," he says. "I won't speak for Joy, but the limited solo performances that I've done since The Civil Wars' sort of upswing started have been so lackluster. There's this creative energy that's just cut in half when you're onstage, and you know, that could come back and that could not come back and I could really care less…There may be times when she and I release material outside of The Civil Wars, but it's not in my foreseeable future, I can say that. I'm dating exclusively."
"I'm not saying I won't run around at some point, but at the moment I am faithful."
"Oh my gosh," Williams laughs. "You are so full of it."
You can catch The Civil Wars in a city near you on the following dates:
December
11 — Portland, Ore. @ The Woods
12 — Seattle, Wash. @ Tractor Tavern
14 — Los Angeles, Calif. @ Hotel Cafe
15 — Santa Cruz, Calif. @ Crepe Place
18 — San Francisco, Calif. @ Cafe du Nord
January
20 — Salt Lake City, Utah @ The State Room
21-29 — Park City, Utah @ Sundance Film Festival
Check out the video for "Poison & Wine" below.
Others Tagged With