Dan Harmon Talks Tonight's Stop-Motion Animation Christmas Episode of Community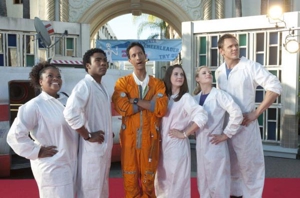 Dan Harmon, the man behind NBC comedy series Community, recently spoke with Vulture about tonight's Christmas episode's likeness to the Rankin-Bass holiday classic.
When Paste spoke with the show's Gillian Jacobs, the plan was apparently for stop-animation to premiere in the Halloween episode. Luckily, the idea wasn't scrapped entirely. "The reason it's ultimately not that different [from Rankin-Bass' Ruldoph The Red-Nosed Reindeer is they're basically using the same tools they did in the sixties," Harmon told Vulture. "The craft is so meticulous: Every frame has a human being involved in it. So you get the same magical feeling that these are little dolls that have come alive. We did everything we could to put together the best stop-action episode we could."
Harmon said tonight's festive installment follows Abed's quest to find the true meaning of Christmas. The other characters assist him in his mistletoe-tinged quixotic journey and naturally, things shift into frame-by-frame time. Oh, and there will be music. "There are songs, but they're very fast songs," Harmon said. "There's as many as I thought we could do without being overbearing. When people would start singing [in other holiday specials], my brain would go to sleep. But I think there's something cool about short, fast songs."
Got news tips for Paste? Email news@pastemagazine.com.
Others Tagged With