New Vampire Weekend Album Inspired by Failed Comedies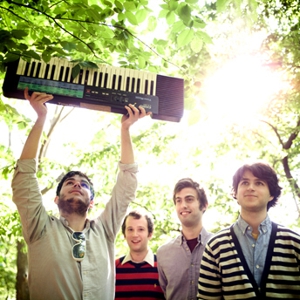 In a recent interview with MTV, the gentlemen of Vampire Weekend revealed they're in the early stages of making a new album.
"In terms of working on it, have the four of us gotten into the studio and started laying down tracks for it? Not in any formal way, but in some way that's not even the most important part of the process," frontman Ezra Koenig said. "So the ball's already rolling. When and how we start working on it — we definitely need a break — but the talking about ideas, that's already happened, and there's definitely stuff floating around."
It's not all yachts and summer homes when it comes to Vampire Weekend material: The band is reportedly drawing its inspiration for the new record from failed big-budget comedies. "The Love Guru, a notorious financial failure, The Rocker, [that] didn't do too well at the box office, Bride Wars, that was the exception," Koenig said. "Any time you interact with a piece of art — whether it's something that goes on to be your favorite or something that maybe you find issue with — still, that's going to help you think about the art you want to make."
Don't get too excited for that ode to Mike Myers to drop soon, though. Koenig said it might be a while before the follow-up to Contra hits stores. "Knowing us, it takes us a very long time to make an album," he said. "Is it possible that things from the Vampire Weekend family could come out in 2011? I'm sure, but a Vampire Weekend album … I don't see any reason to rush it."
Got news tips for Paste? Email news@pastemagazine.com.
Others Tagged With