Appeals Court Rules in Favor of Selling Promo CDs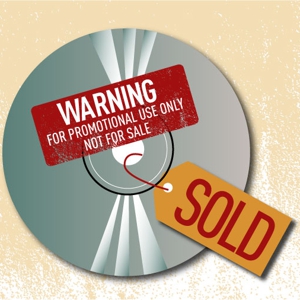 If you write about music or regularly visit independent record stores, you're probably familiar with those intimidating labels warning of legal repercussions against anyone who sells or copies promotional CDs. Apparently those are not enforceable, according to a recent appeals court decision in the case of UMG vs. Augusto (via Ars Technica). The decision, upholding a lower court's ruling, states that having just a stamp on a CD label cannot a make a recipient abide by a licensing agreement. As a result, individuals may resell promotional CDs as they wish, regardless of warnings.
In 2007, Universal Music Group filed a lawsuit against Troy Augusto, a California resident who made money through selling promotional CDs on eBay. UMG argued that they had licensed the CDs to Augusto rather than transferring ownership of the CDs. Because Augusto did not technically "own" these licensed CDs, he had committed copyright infringement through the resales.
But, according to the judge residing over the appeals case, UMG's claim did not hold water. "Because the record here is devoid of any indication that the recipients agreed to a license, there is no evidence to support a conclusion that licenses were established under the terms of the promotional statement," wrote Judge Canby on Tuesday. "Accordingly, we conclude that UMG's transfer of possession to the recipients, without meaningful control or even knowledge of the status of the CDs after shipment, accomplished a transfer of title."
The major legal question at the heart of this ruling was a debate over the first sale doctrine—a limitation of copyright that when applied to this case would allow for individuals to sell a promotional CD without permission of the original copyright owner. Once an original copyright holder (UMG) transfers the CD to another person (Augusto), they no longer hold have the right to control future changes of ownership for that given CD.
The case of UMG vs. Augusto attempted to reverse a 2008 ruling which a federal judge also sided with Augusto, deciding that promotional CDs were gifts under federal law. Although some CDs had clear warning stamps printed on them, these did not constitute a licensing agreement in the way UMG hoped for.
Got news tips for Paste? Email news@pastemagazine.com.
Others Tagged With