Getting to Know... Anthony D'Amato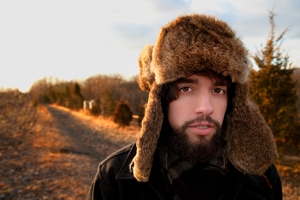 Hometown: Blairstown, New Jersey
Album: Down Wires
For Fans Of: Pete Yorn, Neil Young, Turin Brakes
Listening to Down Wires, the third album from New Jersey singer-songwriter Anthony D'Amato, it's hard to believe the songs were recorded in a Princeton dorm and not the open road. D'Amato's music calls to mind war, campfire nights and honest, open days. Through his voice and a variety of musical instruments—guitar, bass, keyboards, banjo, mandolin, harmonica and pedal steel—he delivers ridiculously familiar songs; they're like half-forgotten memories laid over unforgettable tunes. Playing music for as long as he can remember, D'Amato only became serious about it a few years ago. Since then, he's committed himself to creating songs that leave a legacy.
Paste: What did you study at Princeton University?
D'Amato: I majored in English and did Certificate Programs—sort of the Princeton equivalent of minors—in American Studies and Musical Performance. My senior thesis was titled "Deliver Me From Nowhere: Bruce Springsteen & The Literature of American Alienation." I traced the evolution of the particularly American sense of alienation in Springsteen's songwriting back through a literary tradition to Puritan sermons in the 1600's.
Paste: You immediately made it known that you recorded Down Wires in the same dormitory that housed F. Scott Fitzgerald. Why is it important to you that people know this is the place where you recorded your album?
D'Amato: When [Fitzgerald] would write about his time at Princeton, he would always write about the ghosts that have been there for hundreds of years and always wrote about wanting to become one of those ghosts that left there mark for centuries to come. It made sense to stay in my dorm and record there—try to leave some of my ghost when the album was done, leave my mark."
Paste: Recording an album can be difficult, and recording it in a dorm room probably didn't make it any easier. What was the hardest thing about recording Down Wires?
D'Amato: The hardest thing about making Down Wires and "Songbirds" was the limited materials I had to work with. I recorded these songs in my dorm room at school with a broken laptop that was missing keys. I knew I wouldn't be able to hide behind any glossy production, so it really made me focus on song structures. I had to record everything not only a single instrument at a time, but a single stereo channel at a time because of the setup I had. That made the whole process take twice as long, but I'm grateful because it also made me acutely aware of the work each channel does in a mix. There are sounds and feelings I was able to coax out of this album that I might have missed out on if I'd had a more "professional" recording space to work with.
Paste:What do you consider your greatest strength: your vocal skills, your
musical ability, or your production skills?
D'Amato: I think my greatest strength so far has been figuring out how to combine all of those aspects of my music. I've never been the fastest guitar player or the most beautiful singer, but I think I've developed a voice as a writer that fits my voice as a singer, and I'm learning to match that aesthetically as a producer. The ultimate goal is to faithfully capture the sounds in my head, and that really requires equal parts of all of those skills.
Paste: Who influenced Down Wires?
D'Amato: Well, I always come back to the usual suspects: Bruce Springsteen, Bob Dylan, Leonard Cohen, Neil Young, Steve Earle, etc. But Josh Ritter and Joe Pug are some younger songwriters who have me really excited. Jesse Malin's The Fine Art of Self Destruction is one of my all-time favorite albums, and he was the first artist to invite me to open shows, so he's obviously had a huge influence on me.
Paste: You recently moved to New York City. That city can have a transformative effect on an artist. How do you feel New York has influenced your music, if at all?
D'Amato: It's definitely encouraged me to collaborate more. I used to be very private and possessive about my songs. I'd record everything myself and wouldn't show it to anyone until it was 100% done. But now I'm surrounded by so many fantastic musicians who are so generous with their time and talent, I'd be crazy not to have them contribute to the recordings. Gabriel Gordon (of Natalie Merchant's band) plays guitar on "Songbirds," and Tim Walker (from the fantastic band Minibar) actually contributed pedal steel to "Songirds" and "Silver & Gold" from L.A. Brittany Haas (of newgrass phenoms Crooked Still) laid down fiddle on "Silver & Gold," and my good friend Katy Pinke, who I met at school, sings harmonies on "Silver & Gold."
Paste: "Songbirds" was not included on the album. What made you decide to release it separately?
D'Amato: I wrote "Songbirds" and "Silver & Gold" around the same time as the album, but they called for a different sound than the album did, and so I am letting them stand alone. It is a different sound from me and I wanted to let fans see what I was working on. I might re-record it for the next album or I might leave it as is. I don't know what will happen with it down the line, I was just very happy with it and wanted to put it out there so people could see what I was working on. Also, people have been so supportive of the album and so wanted to give something as a thank you and for new listeners, which is most people at this point in my career, to have something they can take away with them and help make up their minds. Then maybe they may want more and will come to shows and buy Down Wires.
Paste: Performing live is still relatively new for you. How is that going?
D'Amato: Playing live for me is really thrilling every time because I am pretty much guaranteed to be getting a fresh audience each night. I do not have the fanbase yet where I am playing to the same people so it is pretty awesome getting the chance to convert some new people; it is a new challenge every night. I'm also very excited to play with Pete Yorn and Ben Kweller because the audiences are more likely to be receptive to my sound, but nothing is a given; you have to go out there and earn it.
Paste: What would you like for people to take from your music?
D'Amato: Well, I hope people can take from my music what I take from my favorite artists, which is a sense of kinship and community, a sense that you're not alone. I want there to be some kind of connection to the heart. I think if you're aiming any lower it's a wasted effort. Not to say that you're going to hit the mark every time, but those moments when you do are what it's all about.
Paste: What is it that you love about music, that keeps you pursuing this dream?
D'Amato: What I love about writing music is the sense of creating something from nothing, of imagining something into being. There's also something cathartic about capturing a certain moment or emotion with a song. You're able to take ownership of it and share it with people in a way that's hopefully rewarding for them, too. My favorite songwriters are the ones who can make you recognize something about yourself in their music that you may not have understood before.
Paste: What can we expect from you and your music in the next few years?
D'Amato: I'm really at the start of the journey right now. In a few years I hope I'm touring steadily and putting out music that's really meaningful to people. I'm not sure how much more I could ask for from life.
Download a pair of D'Amato's songs below:
Others Tagged With