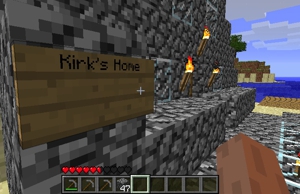 Videogames take us places. They do a lot of other things too, of course; they entertain us, challenge us, pit us against one another in brutal competition, tell us stories, let us make music and give us the tools to build amazing things. But for now, for my first column here at Paste, I wanted to talk about the places they take us—the epic voyage and the long journey home.
My predecessor Jason Killingsworth often wrote of how in many ways game criticism is a form of travel writing, a series of dispatches from a destination that exists only on a disk. Games are experiential in a way that's quite unlike other media; when writing about videogames, it's even difficult to choose a proper pronoun. Did "I" do this, go here, see that? Or was it the character whose movements I controlled? Perhaps it doesn't need to be one or the other—in a sense, my avatar and I did those things together.
It certainly feels as though I've done some traveling over the past couple of years. I've traipsed over the rooftops of ancient Rome, hunted buffalo on the plains of the wild west, poked about the irradiated wastes of Washington, D.C. and struggled to survive in the sodden, malaria-ridden jungles of war-torn Africa. I've been taken out of my comfortable San Francisco apartment and transported to destinations strange and beautiful, ugly and challenging, foreboding and even terrifying. But among all of the places I've been, the ones I remember most are the ones that felt like home.
"Home" is an elusive concept, if only because it means so many different things to people. To some, home is their family; to others, it's their childhood. Home can be something we finally find after years of searching or something we finally escape after years of fruitless effort. For me, home is a place of peace, a safe space that provides a respite from the chaos of the larger world.
As I made my way through the treacherous Deep Roads in BioWare's epic RPG Dragon Age: Origins, I found myself yearning not for additional arrows or mana potions, but for the soothing twilight of my party's camp. In Dragon Age, the camp could be visited at any time from anywhere on the world-map. It seemed less like a physical place than a state of mind—the sun never shone, and conversations with party members took on a hushed, philosophical tone that was accompanied by soft, etherial music. To this day when I think about Dragon Age, I don't think of the epic battles or morally complex story but of camp, and of the enchanting spell it cast.
Mass Effect tried valiantly to capture a similar vibe without doing quite as good of a job. When I think of "Home" in outer space, the first place that comes to mind is the Firefly-class transport vessel Serenity in Joss Whedon's classic TV series Firefly. Captain Malcolm Reynolds' careworn, oddly-shaped tub was emblematic of the show's best qualities, the proverbial table around which its fantastically well-drawn, memorable crew members gathered. As survival became coexistence became friendship became family, Serenity carried these people through good times and bad, from improbable victory to impossible loss. "Love," Mal tells us, is the secret to flying a starship. "Love keeps her in the air when she oughta fall down, tells you she's hurtin' before she keels. Makes her a home."
Though Mass Effect's SSV Normandy was a cool ship full of interesting people, the spit-shined Alliance cruiser felt too clean, not really lived-in. The characters never moved from their assigned posts, and while that led me to associate different areas with different people (aah, the fun times I had back in Liara's study), it also made the ship feel oddly disjointed. When commander Shepard and I toured its wreckage in Mass Effect 2, I felt surprisingly unmoved, tracking down each piece of the ship more out of dutiful completionism than a sense of nostalgia.
Of course, not every game needs a home—some games embrace rootlessness and are stronger for it. Throughout Rockstar San Diego's wild-west opus Red Dead Redemption, wandering gunman John Marston speaks wistfully of his home, where his wife and son await his return. For most of the game I thought that I'd never actually get to see this fabled place, and so I was genuinely surprised by the game's final act, which featured John returning home and going about his everyday duties as rancher, husband and father. Other games like Far Cry 2 and Planescape: Torment are built around the concept of chaotic rootlessness, and would actually be undermined by the presence of a safe haven.
I've been playing through some classic titles from the 1990's, and nolstalgia for my real-life childhood home has added another wrinkle to the question of "home." Square Enix's masterful Chrono Trigger begins in Crono's home with the now-famous words "Wake up, Crono!" Our protagonist then makes his way from his quaint home to the town festival, oblivious to the epic time-traveling adventure that awaits him. Far later in the game, when players return to that fateful morning, Crono's home feels like a bittersweet dream, an impossible sanctuary adrift on the torrid seas of time.
When I first entered AVALANCHE Headquarters at the start of my current (and first!) playthrough of
Final Fantasy VII
, I was struck by how immediately it felt like home. The cluttered bar, the odd "Texas" sign on the wall, the pinball machine disguising a lift down to the secret lair… I felt as though I had been there before. Perhaps it is that these older games harken back to my own childhood, a time when "home" meant something a good deal warmer and simpler than it does now. But I think there is something more than mere nostalgia at work, a certain magic that the artists who created those games were able to capture. It feels powerful now because it felt powerful then.
But of all the videogame homes I've occupied over the years, few could compare to the one I built for myself. I've owned Notch's sandbox creation-game Minecraft since back in September, but for the most part I hadn't really gotten into it. I understood the game's appeal and had read a large number of glowing articles and critical analyses. But for whatever reason, I couldn't quite be bothered to work my way past the initial "Punch a Tree" phase of the game. Couldn't be bothered, that is, until a few weeks ago.
With the help of the fantastic Minecraft Wiki, I finally set out to gather some resources, build some tools and actually make some progress in the game. Within minutes I'd crafted a pickaxe and harvested a fair amount of stone, lumber and coal. I felt like I was off to a pretty good start. Now what?
The brilliance of Minecraft is that there is no actual "game," no end-goal towards which players must strive. There is only one rule: when night falls, monsters come out, and they will probably kill you. By necessity the very first order of business in a given game of Minecraft is to build a safe haven, a home.
As the sun set on that first day I dug and dug into the side of a hill, quickly walling myself in. It was dark inside, and I could hear the clinking of bones and the hissing of giant spiders from the other side of the wall, mere feet away from where I hid. But I was safe in here, the beasts couldn't see me.
The experience conjured childhood memories with a surprisingly forceful immediacy; memories of building forts as a kid and hiding away from the world, safe from the peering eyes of adults. I lit a torch and my small cave was flooded with warm light, a flashlight's hooded glow beneath the covers of my childhood bed. As the moon rose in the sky, I began to dig.
Hours later I had wrought an impressive underground hideaway, a subterranean bachelor pad replete with hanging artwork, a groovy crafting lounge, a glass-walled observation deck and a staircase that spiraled down, down, down. In-game days and nights passed as I toiled, lost in my growing obsession with interior design and architecture. I tilled the land in my yard, constructed a fence, installed irrigation and planted crops. I crafted a door and placed windows in my house's front wall so that I could see the sun and know when it was safe to head out to gather supplies.
After a few (real-world) evenings' worth of work, I sat back and realized that my cave had become a home. What's more, I felt a stronger bond to this collection of bricks and blocks than just about any videogame home I'd had. Although I have branched out since then and begun to develop other corners of my Minecraft world, my first house will always hold a special place in my heart.
I recently figured out how to make a wooden sign, which allows me to input whatever text I'd like and attach it to an object in the world. It was with pride that I placed my first sign outside of my front door, emblazoned with the words "Kirk's House."
I looked at it for a second, then tore it down and put up a new one. "Kirk's Home."
---
Kirk Hamilton is Paste's Games Editor. He is a musician and writer in San Francisco and can be found at Kirkhamilton.com and on Twitter @kirkhamilton. Email him at Kirk [at] PasteMagazine [dot] com.
Others Tagged With