Chuck D, Bela Fleck, Samuel L. Jackson Featured on New Bootsy Collins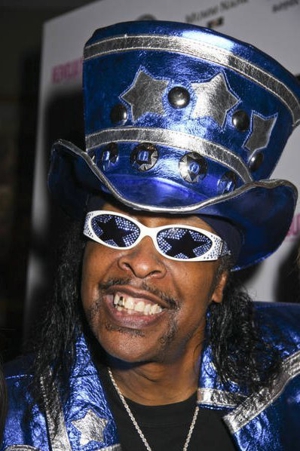 Parliament-Funkadelic bassist Bootsy Collins has assembled a formidable cast of both musical and non-musical names for his forthcoming album. Tha Funk Capitol of the World features guest spots from '70s legends like Bobby Womack, George Clinton and Bootsy's brother, "Catfish" Collins, and contemporary rappers like Snoop Dogg, Ice Cube and Chuck D. Collins has also pulled performers from myriad genres like Buckethead and Bela Fleck as well as talents of other disciplines like Samuel L. Jackson and Rev. Al Sharpton. The voice of Jimi Hendrix can be heard speaking on a track as well.
The new record was first realized while recording a James Brown tribute album in 2008. "That [project] really got me thinking about all these great cats who are no longer around and how people are just forgetting about them," Collins told Billboard.com. "Since I'm still here, I really wanted to connect those dots…so young people can see that what they think is so new isn't so new."
No tour dates have been announced yet, but all featured acts are on board. It's just a matter of scheduling before we can all get funky.
Tha Funk Capitol of the World drops April 26 on Mascot Records.
Check out the tracklist below:
Tha Funk Capitol of the World:
1. Intro
2. Hip Hop @ Funk U (feat. Ice Cube, Snoop Dogg, & Chuck D)
3. Mirrors Tell Lies (feat Jimi Hendrix)
4. JB-Still the Man (feat. Rev. Al Sharpton)
5. Freedumb (feat. Dr. Cornel West)
6. After These Messages (feat. Samuel L. Jackson)
7. Kool Whip (feat. Phil Ade & iCandice)
8. The Real Deal (feat. Sheila E. & iCandice)
9. Don't Take My Funk (feat. Catfish Collins & Bobby Womack)
10. If Looks Could Kill (feat. Bela Fleck, Zionplanet10, & Dennis Chambers)
11. Minds Under Construction (feat. Buckethead & (Z-Class))
12. Siento Bombo (ftfeat Olvido Ruiz & Ouiwey)
13. Garry Shider Tribute (feat. George Clinton & Linda Shider)
14. Stars Have No Names (They Just Shine) (feat. Nick Arnold & Chrissy Dunn)
15. Chocolate Caramel Angel (feat. Faith Daniels, Ronnie Racket, & Casper)
16. Yummy, I Got the Munchies (feat. Musiq Soulchild, Razzberry Hershey & Tom Joyner)
Got news tips for Paste? Email news@pastemagazine.com.