British Sea Power: Valhalla Dancehall
[Rough Trade]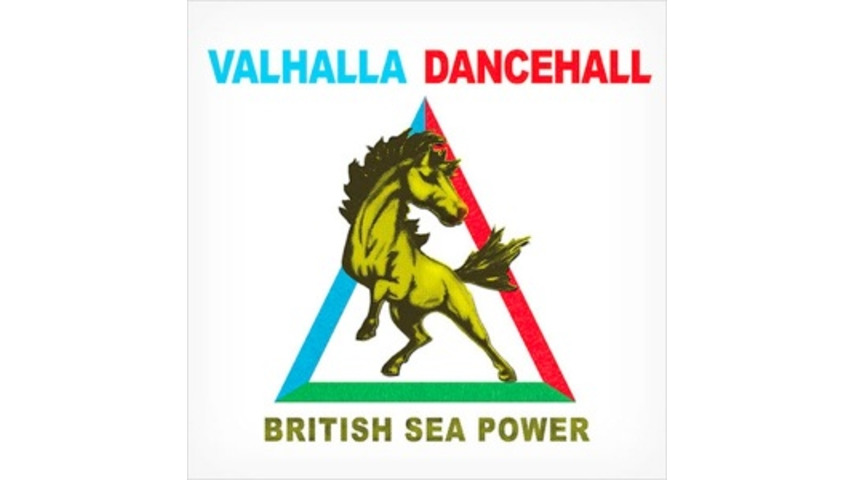 More epic weirdness, and that's just fine.
Brighton lads British Sea Power have always distinguished themselves from their Britpop compatriots by their literate if head-scratching lyrics. There may not be a band in existence that fuses such musical ambition and epic soundscapes with such arcane, esoteric subject matter (aside from The Decemberists). Previous albums have featured soaring, anthemic choruses about Antarctic ice floes, the Carpathian Mountains, the Slavia Prague football club, and Scandinavian shipping. Imagine U2 with their noses inside a calculus textbook instead of their heads in the clouds. That's the intriguing if baffling territory covered by this band.
Valhalla Dancehall, released on the ultimate computer nerd date of 1/11/11, continues the inscrutable upward trajectory. There are a couple sonic surprises here, most notably in the Gary Glitter glam stomp of the rousing opener "Who's In Control" and in the R&B influences evident in the first single "Living Is So Easy." Otherwise, this is a typical British Sea Power album, evenly split between uptempo, spiky-guitar workouts ("Thin Black Sail," "Observe the Skies") and atmospheric, slow-building post rock ("Cleaning Out the Rooms," "Once More Now"). The subject matter this time takes in local Sussex libraries and something called the Dame Vera Lynn Celebrity Clay Pigeon Shoot, although a couple of these songs sound suspiciously like they might be about something as mundane as girls. A let down? Not really.
Like their forebears The Kinks, British Sea Power remain resolutely iconoclastic, supremely melodic, quintessentially British, and utterly unique. God save the Queen and her royal navy.
Others Tagged With