Catching Up With... Akron/Family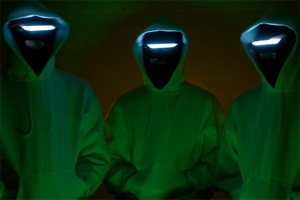 Over the course of its nine-year career, Akron/Family has developed a reputation for being experimental, off-kilter and somewhat unorthodox in its musical approach. At first glance, the band's new album title, S/T II: The Cosmic Birth and Journey of Shinju TNT, fits that mold to a tee.
These guys aren't weird for the sake of being weird, though. Instead, each action has deliberate intent, including everything from their album titles to their head-scratching press releases to a radical progression throughout their sprawling discography. Recently, Paste caught up with singer/guitarist Seth Olinsky to talk about the band's philosophy behind the new album, how Detroit inspires the group and the story behind the band's mantra of "Flourish. Flourish. Flourish. Fuck Shit Up."
Paste: Let's talk first about your album title. Explain to me what The Cosmic Birth and Journey of Shinju TNT means.
Olinsky: Ultimately, for us, a record ends up being more than just a compact disc, but a sort-of focused meeting point for us to come together… On some level, it's less about the compact disc for us—that's an aspect of it, it's the thing that ends up in the store that people buy and enjoy at home. But part of it is a real major component of our creative process, you know? For whatever reason, this image, this character of Shinju TNT came into mind… It represented this idea of transformation in this kind of explosive, clear energy of radical behavior or expression—kind of this bold, new, breaking-down-the-walls kind of image.
Paste: You mention that Akron/Family has made a radical sort of expression on Shinju TNT, but at the same time the first part of the album title is S/T II. Since you had recently recovered your old hard drive from the original S/T-era, did you take parts of S/T I and use them for S/T II?
Olinsky: I feel like from where we started, we just had all these different ideas and perspectives of us. For us, it was very in the moment. Less whimsical, literally more about documenting all these different sides of ourselves, with ourselves being the center, rather than any one record being the center… When we began to make this record, we looked back at the very first record, and thought, "Wow, we've made such a far journey that in some ways we've left behind some of the elements that we've started with."
I had an experience recently where I had to go back to an old computer and I had all this music on that computer that was actually the music I was listening to when we made the first record—the S/T record… All of the sudden, I had this old computer, and I was listening to all this music and it was really transporting me back to being 23 and being in Brooklyn seven years ago. It was a really interesting experience.
I think on an emotional level, there was a level of all us living in the same loft in Brooklyn and there was a really…all for one, one for all mentality. We were youthful and idealist and kind of romantic in living in this space together…We've since changed our lives and grown up and done all these different things, but I think there was part of us on some level relating to the romance of that experience—and trying to recognize that's still part of us.
Paste: Akron/Family wrote much of the new album in an isolated cabin in Japan on the side of an active volcano. Was this an attempt to recreate that same togetherness for the band back when you were younger?
Olinsky: I think [with] the Japan side of things…that energy of breaking through walls and of change and of transformation, that kind of explosive change…We felt like we connected to there both in the artists we met and performed with. Physically being there was a way of tapping into that as our inspiration.
We've actually come to work with this producer in Detroit named Chris Koltay. We've been searching for a long time to find someone who had this…distorted, hi-fi sound. It has the distortion of low-fidelity recordings, but he captures it in this high-fidelity way. It's the way we really hear our music and when we record with him we're like, 'Wow, it really sounds the way we want it to sound.'
Paste: So was Detroit more at the heart of this record than Japan?
Olinsky: The initial idea of working in Detroit just stems from working with him. I think, on a grander scale, the thing that inspires me about Detroit is [that] I feel like there's this thing happening in America—maybe the greatest evidence for it is the recent economic downturn. I see two towns in particular—Detroit and New Orleans—[that] I've seen being hit way before any of the other cities in America. These towns that have crumbled and fallen apart are to me these future expressions of America. Not to say that I think we're going down the tube, they've already dealt with where they are… Detroit and New Orleans are having to deal with not what I consider to be their personal situation, but really the American situation.
I think the idea of being in Detroit and tapping into that is this really progressive, futuristic and simultaneously raw, blown out energy. It ties into this idea of Shinju TNT being this…extreme, but positively transformational energy. Detroit for us is a reflection of that. If you go on the surface you just see, blown out buildings and criminals. But there's not even that much crime, it's just kind of empty. I think that's what Detroit on a certain level really feels like for us. So when we're there making music, it feels like we're partaking in that energy.
Paste: For this album, the band made a focused effort to initially only distribute vinyl copies. Why did you go this route?
Olinsky: I don't think any of the three of us would be so presumptuous to think that it's bad that people steal music. I don't even think we look at it as stealing music. Let's be honest, it's not even really stealing music anymore—it's culturally become something else. We've certainly benefited from [that] fact when we tour around… Part of the reason we're able to do what we do, not only just touring but getting to make new music and have time to create is because of the hard work that our record labels do. [But] all of us need to survive—there's striking that balance of how do we compensate ourselves for the work we put in. It's hard, but I think people are getting more creative and more proactive.
Part of our proactive stance on this release was [in response to] the record taking four months to come out. We finished it, and wanted everyone to hear it. We want it to be instantaneous. But it takes time for vinyl to be poured… Part of our complaint was that the label would send out some CDs to blog writers or people to hear it. Instead of our fans getting a shot to hear it first, these blog writers get it and then they leak it. Our very simplistic idea was if we just don't send it out, we can push forward that moment of excitement—the excitement of people hearing it for the first time…The idea of things being more spontaneous and everyone responding to this new energy and this new music at the same time is something that we felt like we were missing out on.
Paste: Your press releases states that your mantra for the album was as follows: "Flourish. Flourish. Flourish. Fuck Shit Up." Can you elaborate on that a little bit?
Olinsky: It's a phrase for us that comes from our friend Mauro [Pezzente] from Godspeed You! Black Emperor. Mauro at some point was sensing something in us, an energy, that was not quite realized. And [he] was like, "You guys got to fuck shit up," or at least that his way of saying it. I think for us, it means kind of like this Shinju TNT thing—this unbridled, extreme, punk, no holds barred, visceral expression. It doesn't have to loud, it doesn't have to be jarring. It can be really sweet and gentle and close. It just has to be really extreme and clear in it's expression.
Sometimes it's just hard to slow down and go to the place inside yourself… And really tune in to what's important to you and make sure you're radiating that as an expression of yourself. There's so many things that compete for your attention all the time… It's the same for an artist as it is for anyone. I think "Flourish. Flourish. Flourish." is saying that we're trying to tap into that principal within us that is deep and [that] we want to act from, visualizing ourselves acting in that place. We are going to do this. We are going to fuck shit up. It's less of a statement saying, "Here, look at what we've done," and more of a psych-up statement saying, "This what we're aiming for, this is what we'll try to do". And by saying that, hopefully it means that's what we're going to do.
Others Tagged With