Catching Up With... Amos Lee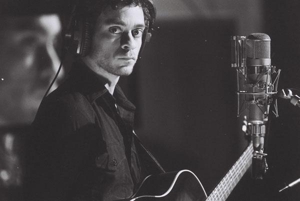 Amos Lee's first three albums established him as one of the finest soul-rock crooners around, but for his fourth, Mission Bell, he decided to shake things up a bit. Rather than writing and recording quickly with members of his long-time backing band, Lee took a break from touring and gave himself more time to stay at home and write songs. Then, he traveled down to Arizona to work with Calexico, the Tucson veterans whose music mingles American and Latino influences. And Lee even invited two of his heroes—Lucinda Williams and Willie Nelson—to sing on his first recorded duets.
The result is his best and most adventurous album to date, one that spans the noir gospel of "Jesus" to the cathartic road-trip rock of "Windows Are Rolled Down." It's a big step for Lee, who was excited to play these songs for fans when Paste caught up with him just days before the launch of his new tour.
Paste: How did you end up working with Joey Burns and John Convertino of Calexico?
Amos Lee: I love their records, and I'd heard the stuff they did with Neko Case and I liked that a lot. And I loved the EP they did with Iron & Wine. I had played a show with them about five years ago in Austria. We met only briefly, but they were cool. So when it came time to pick someone to do the record with, I thought it would be fun to go out there and play a few songs together. That basically laid the groundwork for the record, which we started in April and finished in May. I was hoping to get into the depths of the songs a little bit more this time around with the arrangements and with the musicianship.
Paste: It sounds like you've been able to assimilate their sound into your own.
Lee: The ultimate goal for me was to have a true collaborative experience with those guys. We all came together under the songs. James Gadsen really helped that, Jaron Olevsky my piano player really helped that, and Greg Leisz and everybody who came in an played on the record had a real sensitivity to the songs. I think that's why it came together the way it did. We worked hard on the arrangements. I think it's best to introduce the songs to the fellows before we get started, so they know them but don't know them too well. That's where it's coming from. We cut everything live, and most of them were first and second takes.
Paste: There are so many different genres represented on this album—rock, folk, soul, gospel. Do you think about genre when you're writing songs?
Lee: No, man, I don't. I don't even consider such a thing. When I listen to music, consciously I'm thinking of something that I'm really feeling. But it's never a genre. It's always a song or a lyric or a performance or something like that. I don't really feel bound by genre, not as a listener or as a performer. Maybe in some of my past recordings it didn't work out quite as well, but I think this time it worked out pretty nice.
Paste: Can you tell me about your songwriting process, especially on these songs?
Lee: The way I write is maybe a little different. I get an idea, but I don't write it down. I sometimes record it into a tape recorder or something, but then I just sit on it for a while and wait. Most of these songs were like that. They might be spawned from another song or they might be spawned from an idea, but a lot of times they'll just come. Like "El Camino." I was just sitting in my bed one day staring at the ceiling, thinking about where I'd been, thinking about people I've known and this forever leaving thing that happens with musicians. We bounce around a lot and sometimes you lose connection with the people you really love. I don't remember anything other than I was watching the dust dance in the sunlight. That's all I remember from the beginning of that song. I don't remember picking up the guitar, but I know I did. It's like meditation or something, where it's like the edges of the world just melt. That's what happens for me when I'm writing.
Paste: You spent more time writing these songs than you normally do. How did that affect Mission Bell?
Lee: I wrote some of this record on the road, but most of it was conceived at home in Philadelphia, at least in spirit. That put me in the same place for more than a day at a time, which is helpful for me. More than anything else it gave me time to consider which songs fit together best and think about an overall feel for the record.
Paste: Does Philadelphia inspire you? Does setting matter?
Lee: It inspires me a lot. It's the overall vibe of it—all the musicians and songwriters I know there. I'm consistently inspired by the people I go out to see, friends of mine or local folks who are playing in town. That's why I haven't left, more than anything else. I can't seem to leave the people I love listening to. And it's a great place to come back to. It's a super livable city. When you go to New York and come back to Philly, it feels almost like a country town. It's rough around the edges.
Paste: Philadelphia has such an amazing musical history. Do you get into stuff like Gamble and Huff or Hall & Oates?
Lee: I love all that stuff. It's great music. It would be nice to be able to play some of those songs, but they're pretty complex. The Philly sound had a lot going on with strings and horns and things like that. Those songs definitely translate to a more stripped-down place, but I think they're best served with the full ensemble around them.
Paste: This album is full of loss and death and break-ups. Was there anything going on in your life that inspired that tone?
Lee: There was all that stuff—not exactly the grooviest stuff, but it all happened. The break-up… nobody likes that, but it happens to everyone. I'm not forever writing songs. It's usually a heavy time when I feel a need to do it. But those times when I need it, that's when it's there.
Paste: Does songwriting help soothe that pain?
Lee: With this group of songs it sort of sewed up the whole. It stitched the wound. That's what they've always done for me. It doesn't soothe as much as it heals. You can put a person in a story or you can put some chords around a feeling, and it's a lasting impression that will always be there—not just an abstract emotion.
Paste: Have you had a chance yet to play these songs live very much?
Lee: We're getting around to it. I love playing these songs. I'm sure a lot of artists feel this way, but it's really refreshing to me to be able to translate these songs from the record into the band situation. They're changing a little bit, and as much as you get attached to and love an idea on a record, sometimes it evolves into something even better live. So it's cool to be able to build your live shows from a record that you feel good about because they're probably only going to get better from there.
Paste: Do you enjoy touring, or would you rather be at home writing?
Lee: I enjoy it one we get into the rhythm of it. Sometimes doing one-offs—getting on long plane rides, waiting in airports, being in hotels far away from everything—can wear on you a little bit. Once you get into the rhythm of it, you get on a bus and get out on the road, it feels pretty good. The waves just carry you.
Paste: You do a lot of work with Musicians on Call. How did you learn about that organization?
Lee: Through WXPN in Philly. There's a woman there named Helen Leicht, who's probably the first DJ ever to play my music. When the program was just starting out, she called me and said they'd love for me to be an ambassador here in Philly, if I was interested. I said sure, I'll give it a try and see what happens. We've been to children's hospitals and veteran's hospitals, doing what very little we can do to give back to the music and the people who have loved us our lives.
Paste: That really puts you right in the room with the patients. You're on the front line, so to speak.
Lee: It's definitely out of my comfort zone a little bit, but that's what makes it even cooler. They're giving people like me a platform like me to give back. I just feel a great amount of respect and humility. I imagine in a hospital you don't' have very much personal space. There's not much you can control. So I don't want to go in there and invade somebody's room. But most of the time it's been a very positive experience for me to have a real heart-to-heart moment with somebody through music. They may not know me, they may not know anything about what I'm doing, but whatever the song might be, we immediately have some common ground.
Others Tagged With