Catching Up With... David Lowery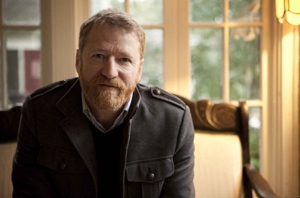 David Lowery is trying to find a place in Athens, Ga., that gets good reception. He's using an iPhone at lunchtime, when all the students are out of class and crowding the streets, so his signal keeps fading. It's an occupational hazard of sorts: Lowery is teaching a class called Fundamental Concepts in Music Business at UGA. "It's not like I'm suddenly a professor," he demurs. "I just teach two one-hour classes—sort of a mini MBA overview."
Lowery seems uniquely qualified for such a professorship, and not just because he's a smart, impossibly wry songwriter. First with Camper Van Beethoven and later with Cracker—not to mention various side projects like the Monks of Doom and Sparklehorse—Lowery has nearly 30 years' experience in every corner of the music business: He's been a darling of the underground and a major-label hitmaker, a studio wiz and a touring warhorse, a creator and a collaborator, a frontman and a sideman, a writer and a blogger. Through it all, he's maintained not only his creative edge, but has managed to turn alternative rock into a diversified business.
In addition to becoming a tweedy professor, Lowery has another notch on his belt: He's a solo artist. This month, after so many years in the business, he releases his solo debut, titled The Palace Guards. Comprised of tracks that didn't quite fit into Camper Van Beethoven's oeuvre or Cracker's canon, it's a rip-roaring effort that showcases his mordant wit, raw vocals, and rambunctious spirit. When he finally got a clear signal, Paste listened to Lowery lecture on the perils of owning a studio, the joys of revisiting old material, and holing up in survivalist shacks in the middle of nowhere.
Paste: Why a solo album now?
Lowery: I think everybody's been holding me back. There's a certain kind of song that I've been doing over the last decade that wasn't quite fitting quite right with either band. Normally, what's cool for me is that I write one song and if it's not working in the Camper Van Beethoven, a lot of times it works with Cracker. I stopped trying to cram certain songs into the admittedly very versatile Camper and Cracker sounds. Now I can just get a bunch of studio guys, who have been auxiliary players on both bands' records over the years, and let the songs be what they are.
Paste: How do you know whether a song is a Cracker song, a Camper song, or a solo song?
Lowery: I don't know. Sometimes you can just tell from a demo. Sometimes you actually try it out. We tried to do "All Those Girls Meant Nothing to Me" as a Cracker song, but it didn't work out. It worked better as a pop, drum machine-oriented, weird-sounding song with rock elements in it. A lot of these songs are closer to what I was doing with Mark Linkous on the first Sparklehorse records. It's more of a David Charles record. [David Charles was Lowery's pseudonym in Sparklehorse.]
Paste: Is it freeing that you can take these songs anywhere they want to go?
Lowery: It's freeing in a lot of ways, not just from the simple fact that it's a solo thing and I put whatever I wanted on there. Cracker is pretty easy; it's just working things out with Johnny Hickman, but Camper Van Beethoven is this dysfunctional, anarcho-syndicalist commune and you have to do everything by consensus. It's a very slow process, and we do things in a weird way. But this record is freeing in another way too. In a lot of ways, I'm always going against the grain of whatever's happening. Finally everybody's finding out that the only way to promote a record is to go out and tour, and I'm sitting here saying actually I don't think I'm going to do that many shows for this record unless it becomes a hit. I would rather just drive around the country and do some in-stores at the vinyl stores that are left. Hang out on Facebook, get my mailing list, do little YouTube exclusives. That's what I'd rather do than staying up till 2 am at some venue. I've been writing this blog too, and that more than anything has raised awareness of my solo record. I get 3,500 readers every time I post. So it's freeing in a lot of ways—not just musically. It lets me think about things differently and have some fun with it, because that's what it's all supposed to be about.
Paste: You actually owned the Sound of Music Recording Studio in Richmond, where The Palace Guards was made, right?
Lowery: Up until recently I was a quarter owner of it. I started that place with John Moran back in 1992, simply for the reason that there was only one full 24-inch two-track studio in Richmond at that time and it was going out of business. The guy said you can either buy it from me or I'm going to close it. So me and John Moran bought it. I involuntarily got into the studio business. But I've just gotten away from that. I like it being there in Richmond, but I don't have to be an owner. But those guys are family. They're the unseen part of the Cracker/Camper family. It's very comfortable.
Paste: In the liner notes you mention that there were two moves and a fire. Was it as harrowing as it sounds?
Lowery: It was pretty crazy. There was a notorious slumlord in Richmond who bought the building next to us. His building next to us caught fire. The fire department goes into def con 5 when there's a fire in the old section of Richmond. They go completely crazy. As soon as that building caught fire, they cut holes in the roofs of the buildings next door and just pumped water into the buildings. They did wrap our studio gear in plastic before they did that. I wouldn't have thought they'd do that. And then they just pumped water in to the building for about 24 hours. It pretty much destroyed our building and a lot of our gear. So we moved across the street while we had the building rebuilt. Eventually we decided it was just a bad idea to have a building in that neighborhood, because on the Fourth of July our windows were all shot out in a gang drive-by. We decided to get out of that part of town and move somewhere else. Richmond is a little bit like The Wire. A lot of it is really nice, but there's also this seedy underside to a lot of the city.
Paste: There seems to be a lot of conflict in your songs between your characters and yourself.
Lowery: I think you're always writing as yourself. I happen to agree that all fiction is autobiography, so there's always something about yourself that's in there. There are these characters that I get attached to that clearly aren't me. In "Raise 'Em Up on Honey," it's a crazy home-schooling, pot-dealing, armed hippy survivalist who is like some people I know, people I'm fascinated by. Actually my lawyer [Craig Harmon], who's also the keyboard player, plays with a lot of people but he's actually a corporate lawyer at one of these huge firms. One day I'm at the Wal-Mart near my house. I think was buying some sort of auto supply so I was back by some of the sporting goods. I see Craig, my attorney, and he's in his suit. I say, What are you doing here? He says, Buying as much ammunition as I possibly can. Oh okay.
Paste: Is the song about him in particular?
Lowery: In some ways, that was sort of the inspiration. He had just recently bought this farm out in the country. I was like, okay, he's going though his Hunter S. Thompson phase right now. There were a lot of people around me espousing radical viewpoints. That song is sort of making fun of it, but there's a certain amount of that in me, because up until recently I did have a cabin that was right on the edge of the private land near the Bureau of Land Management land. This little cabin was completely off the grid; it had its own wells, solar panels, a generator. You couldn't get phone service out there and stuff like that. So there's part of me like that. I had a place like that for twenty years until I sold it last year. So much of the real estate market has collapsed but there has been a boom in this sort of survivalist shack. I'm actually not joking about that either.
Paste: You recently did shows with Camper Van Beethoven and Cracker where you played Key Lime Pie and Kerosene Hat in their entirety. What was it like to resurrect some of those songs in such strictly defined setlists?
Lowery: It's funny because a lot of those Key Lime Pie songs we never played live. We never played "June" live ever. We rarely played things like "Borderline," "Come on Darkness," "The Humid Press of Days." So it was cool and kinda liberating to just do that little segment of Camper Van Beethoven songs. Tonally, that's a really strange album. It's got this tonality that's like the prog era of King Crimson or something. It's good and strange that way. I think nobody really did anything like that in the old alt-rock world. It's pretty out there.
Paste: If you knew you'd be performing those albums in their entirety 20 years later, would you have done anything differently?
Lowery: No. We had to make that album the way it was, because it was all pretty much one coherent, cohesive idea. The other thing is that Kerosene Hat is extremely coherent as well. But it's different, because it's so simple. The whole thing is just two guitars, bass, and drums. And one of the striking things about that album is that people look back on that album and say it's an alternative album. But it's not—it's this completely roots-rock Americana album, except that a couple of songs like "Low" and "Movie Star" lean toward punk rock or something like that. That whole thing, when you play it in its entirety, it's really coming from this grounded country-rock place. In 1993, nobody cared about bands like Wilco. They did have a following, but that kind of music was not on anybody's radar.
Paste: How do you keep it fresh each night when you have such a strict setlist?
Lowery: Well, Cracker usually doesn't play with a setlist. We've probably used a setlist maybe twice in the last 10 years, and that was when we were doing TV shows. And of course, Camper Van Beethoven didn't play much of Key Lime Pie because we broke up before that record was really established, so both of those things are interesting to us to do. Now if we were to do it every show instead of maybe ten times, we'd probably lose our minds.
Others Tagged With