Coachella 2011 Lineup Revealed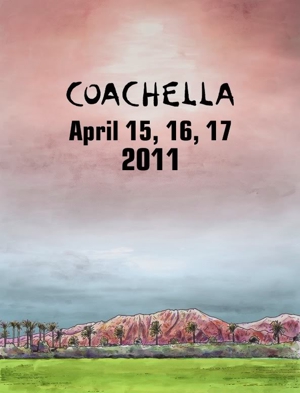 It's that time of year again. Festival season is creeping up on us, and with that comes some highly anticipated announcements from the world's larger summer-music events. Later today, Coachella's lineup will reportedly be unveiled by Los Angeles radio station KROQ at 8 p.m. ET (5 p.m. PT).
Paste plans on being here all day to report on all things Coachella. We will be posting everything from actual lineup confirmations to rumored acts reported by other websites and individuals. On top of that, we'll be posting some of the fake festival posters popping up all over the internet, along with various other Coachella tidbits.
12:00 p.m. ET: As we mentioned above, KROQ will be revealing the official lineup at 8 p.m. ET. All of this excitement was initially sparked by KROQ's @iggnasty, who tweeted the scheduled announcement. If you are unable to listen to the broadcast, you can listen live over at KROQ's website.
12:03 p.m. ET: Numerous websites, including Billboard, have written today that both The Strokes and Duran Duran are strong bets to perform as headliners this year.
12:30 p.m. ET: Coachella's website has recently featured videos of several artists—a likely sign that they will be appearing in Indio this year. These videos include: Fanfarlo, Lightning Bolt, Monarchy, Phantogram, Tame Impala and Trentemøller.
1:33 p.m. ET: Big news coming from Gigwise. In addition to The Strokes and Duran Duran, The UK website now reports that The Arcade Fire are also expected to headline the festival.
1:41 p.m. ET: Well, apparently this KROQ announcement may not be happening today after all. According to L.A. Times music editor Randall Roberts, a reliable source has reported that the 8 p.m. ET announcement may be fake. Either way, we will continue to provide Coachella updates until the lineup becomes official—whether that happens today or not.
1:53 p.m. ET: New Wave fans should rejoice if this one's true. Phoenix New Times has reported that both Gary Numan and OMD will be headed to the California desert in April. This makes sense with Numan, who had to cancel his 2010 performance after being stuck in Europe after the Icelandic volcano eruption last year.
2:45 p.m. ET: Whether or not the Coachella lineup actually gets announced today will remain up for debate until this evening. While you're waiting, below are some pretty awesome fake posters we've found online for the festival. MTV and Consequence of Sound have shown us some of these already, but we have a few more to hold you over until the real poster is out. Check them out in the gallery at the bottom of this page.
3:02 p.m. ET: Speaking of Consequence of Sound, their Festival Outlook has a whole set of artists potentially performing at Coachella, ranging from 'expected' to 'rumored'. None have been recognized as 'official' yet, however, as the website bases these statuses on gaps within each artist's tour schedule surrounding April 15-17.
3:33 p.m. ET: We just found both the greatest and most frightening fake posters so far, both of which are in the gallery below. Thanks to Vince Hannah and happycoachella.com for pointing those out.
4:22 p.m. ET: While there haven't been many new updates in the past hour, we've been examining some more of Consequence of Sound's rumored Coachella artists. Here's an idea of some who are touring in the Western U.S. around or after the weekend of April 15-17: Black Joe Lewis and the Honeybears, Bright Eyes, Cold War Kids, Cults, Cut Copy, Menomena, The Black Keys, The Kills, Warpaint.
5:50 p.m. ET: More updates from Billboard who has confirmed earlier reports that the Arcade Fire will indeed be headlining the festival. In addition, the website also points to PJ Harvey, Crystal Castles and Cut Copy as additional artists who have made the billing.
6:05 p.m. ET: And yes, we will be holding out for KROQ's 8 p.m. ET announcement, just in case the lineup comes out (even though it's been reported as a potential hoax).
7:17 p.m. ET: Another announcement from Billboard. It looks like Mumford & Sons will be joining the party as well.
8:08 p.m. ET: Well after all the KROQ hype, the announcement does not look like it will be happening tonight. The DJ currently on-air just stated "We don't even have the lineup…if we had it, we would be screaming it on the radio". Hopefully the internet doesn't explode because of this dire news. But don't worry, we will continue to update you once we hear more breaking Coachella details.
1:03 a.m. ET: The Coachella lineup is finally revealed! Check out the poster below, featuring Kings of Leon, Arcade Fire, Kanye West, The Strokes, The Black Keys, Interpol, The Chemical Brothers, Caifanes, Robyn, Animal Collective, Mumford & Sons, Bright Eyes, Duran Duran, The National, PJ Harvey, Death From Above 1979, Sasha, Ms. Lauryn Hill, Brandon Flowers, Crystal Castles, Magnetic Man, Empire of the Sun, Big Audio Dynamite, Steve Angello, The Kills, The London Suede, Wiz Khalifa, Ratatat, Nas & Damien Marley, Jimmy Eat World and more.
Other notable acts further down the Coachella billing include Cee Lo Green, Cut Copy, Cold War Kids, Sleigh Bells, Warpaint, Tame Impala, Ariel Pink's Haunted Graffiti, !!!, The Pains of Being Pure At Heart, Here We Go Magic, Titus Andronicus, The Drums, The Morning Benders, Black Joe Lewis and the Honeybears, New Pornographers, Broken Social Scene, Erykah Badu, Gogol Bordello, Delta Spirit, Tallest Man On Earth, Cults, Raphael Saadiq, Phosphorescent, The Love Language, Chromeo, Best Coast, Phantogram, OFF!, Menomena and more!
After the long wait, what do you all think of this year's lineup? Let us know your thoughts below.
Click an image to see it full size. To move to the next image, click on the image or use the right arrow key.
Got news tips for Paste? Email news@pastemagazine.com.
Others Tagged With