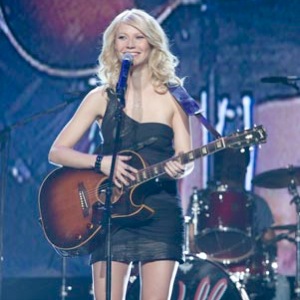 Director: Shana Feste
Writers: Shana Feste
Cinematographer: John Bailey
Stars: Gwyneth Paltrow, Garrett Hedlund, Tim McGraw, Leighton Meester
Studio/Running Time: Screen Gems, 112 min.
Just because they put it on the screen doesn't mean it's worth a damn.
There's a moment in Country Strong when the good and reliable Beau Hutton (Garrett Hedlund) makes what is obviously intended to be a defining statement for the film.
"Just because they put it on the radio doesn't mean it's worth a damn," says Hutton who comes across as a prettier but less talented version of real life singer-songwriter Hayes Carll.
Instead, the line exemplifies everything wrong about the film. Hutton goes out of his way to show his disdain for the big money, slick-as-molasses, star-powered country music and wants us to know a good ol', aw-shucks country boy like himself would prefer playing for small money in small bars. Ha! His character is symbolic of the film which tries too hard to have a small, indie film feel—something it never attains.
Gwyneth Paltrow plays the fictional diva of country music Kelly Canter who has just been released from rehab and is pressed by her husband and manager James (Tim McGraw) to immediately begin a major tour to revive her career and reputation. Coincidentally, Beau works at the rehab center but we soon learn he did much more for her than fluff up her pillows. He and a young beauty-queen singer Chiles Stanton (Leighton Meester), who aspires to be one of those country divas, are chosen to open the shows for Kelly. The interplay between the four characters, though important to the entire film, becomes a convoluted mess of a soap opera. Kelly loves her husband but sleeps with Beau who belittles (but becomes attracted to) Chiles who panders to James who loves his wife but won't sleep with her.
Paltrow's performance isn't terrible, considering the drivel she has to deliver. Her A Star Is Born/All About Eve caricature, however, is such a clichéd mix of personalities that we have no idea who Kelly Canter is or ever was. The film's attempt at hipness just becomes embarrassing—naming an adopted baby quail (a what?!) Loretta Lynn, mentioning Townes Van Zandt and Carrie Underwood in the same sentence (what are the odds?). In the one concert performance Kelly gives in which she doesn't pull a no-show, Paltrow shows the strength of her stardom, as Kelly and as herself. In that moment it's easy to believe she's a big-time country singer. The problem lies in believing, or even withstanding, the rest of the story.
Others Tagged With