Details Surface About Upcoming Square-Enix Games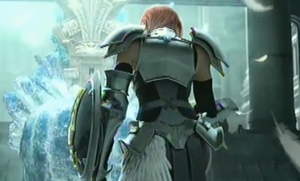 At a recent event in Tokyo, Final Fantasy developer Square-Enix detailed, debuted and screened trailers for several upcoming games. The company doesn't want you to see those trailers—yet.
The screenings were under a media blackout, but trailers for just-announced Final Fantasy XIII-2, Final Fantasy Versus XIII, and Kingdom Hearts 3D have surfaced online thanks to YouTube user nyaon60.
Square-Enix is expected to officially release these trailers later this month, but until then these uploads will probably be pulled soon. Watch quickly, folks!
Final Fantasy Versus XIII
This is a game that has existed in trailer-form-only for years. The public has still yet to play it in any form, but this clip finally gives an extended look at the gameplay. Featuring what appears to be a combination of hack-and-slash melee combat, agility and magic casting, and third-person gunplay, the combat system will most likely end up resembling something similar to Kingdom Hearts'.
Final Fantasy XIII-2
We noted last week in our weekly roundup of gaming news that a domain registration hinted at a possible Final Fantasy XIII sequel. This debut trailer confirms those rumors. (Warning, potential minor FFXIII ending spoilers within.)
Final Fantasy Type-0
The other game set to be released in the Final Fantasy XIII: Fabula Nova Crystallis project, a series of games surrounding a "vague crystal theme" that so far encompasses FFXIII and the above-seen Versus XIII_, PSP title_Final Fantasy Agito XIII has been renamed to Final Fantasy Type-0. The trailer announces both the new name, as well as a Summer 2011 release date.
Kingdom Hearts 3D
Finally, a debut trailer for Kingdom Hearts 3D for the Nintendo DS that shows the upcoming game in both combat and cutscene form. The action appears to be much quicker than in previous KH installments—a welcome addition.
Got news tips for Paste? Email news@pastemagazine.com.
Others Tagged With