Getting to Know... Tennis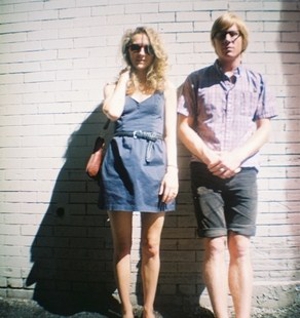 Hometown: Denver, Colorado
Members: Patrick Riley and Alaina Moore
Album: Cape Dory
For Fans Of: Brian Wilson, Best Coast, '60s surf pop
Married-couple duos are nothing new to indie music, but few have as interesting a back-story as Tennis. After returning from a seven-month sailing trip along the North Atlantic, the couple sat down to record their debut LP, Cape Dory, due on January 18 from Fat Possum Records. The result is a beautiful album about adventure, the ocean and sharing it all with someone you truly love. That's enough to make anyone smile, let alone Brian Wilson.
Paste recently spoke to Patrick Riley, half of the up-and-coming duo, about how it all began, how their current adventure is faring and where the winds will blow them next.
Paste: How did the two of you meet?
Riley: We met in class at the University of Colorado. Alaina was one of about three women in the Philosophy department so it was hard not to notice her. I on the other hand had a lot of competition.
Paste: Do you have any musical background before this project?
Riley: I played in a bunch of terrible bands growing up; from punk to noise to a Lightning Bolt influenced drum and bass duo. All of which went nowhere. Alaina was more classically trained but most of her experience was gained singing in big churches. She was an arena-church-rocker, and I might be slightly exaggerating.
Paste: Where did the name Tennis come from?
Riley: Not much. Kind of a jest towards our appearance of being aristocratic or bourgeois—I played tennis in college, we are white, we sail, study philosophy, etc.
Paste: We read that Cape Dory was inspired by a sailboat trip you guys took. Tell us about that. What inspired you guys decide to start writing songs about your trip?
Riley: We both were music majors early on in college but dropped out for philosophy and never had any intention of pursuing music again. After returning home from our sailing trip, we had changed so much that we had trouble resuming our former lives in Denver. We were constantly nostalgic for the past and wanted to keep our memories close to us. Music presented itself as a way to transmit and preserve those memories.
Paste: How did the trip influence your music?
Riley: Well, we would have never formed a band without having gone sailing first. In that sense, it's the foundation of our music.
Paste: Was this the first time you two had tried to write music together?
Riley: Yes it was. Our musical pasts were kept private up until that point. We talked about our hypothetical band and decided to commit to the instrumentation we had sketched out while on our sailing trip. We bought a couple vintage Fender amps and a Wurlitzer and I immediately started tracking in songs on a four-track. Alaina would later add in the vocals and additional organ parts. Every night we would stay up late and work out all the details of our songs. Learning to write at all, much less together, has been a long process. We are gradually learning to write parts with each other in mind, rather than write in an insular way.
Paste: We found your boat trip blog, and we love being about to read about your adventures while listening to you guys tell us about them through song (especially "Long Boat Pass" and "Marathon"). However, we're a little confused. Is the Cape Dory the name of your boat or is it the Swift Ranger?
Riley: Cape Dory is the manufacturer of our boat and Swift Ranger is the name of our boat. That's a great question, a lot of people confuse that detail.
Paste: We know that this musical project really started as more of a hobby for the two of you, and we hear that you guys have been spending a ton of time together in the practice studio preparing for your upcoming tour. How has all this attention and pressure affected your desire to travel and see the world?
Riley: It certainly has influenced us to change around our priorities but we are always planning for our next sailing trip. The real problem is not letting the professional side of music influence the way we write music. The second we start writing music to make money is the second everything will go to shit.
Paste: It may be too early to tell, but do you guys have any plans for a second release as far as subject matter goes. We love the fact that Cape Dory serves as almost a soundtrack to your boat trip (especially after reading the blog). Any plans to do more along the same lines for future releases?
Riley: This might be the first time we have a real answer to that question. We already have written a batch of songs for 7" release over the summer. One of the songs we're pretty sure will make it onto the album. To be honest, living at sea is really the only thing that inspires us. There is no one to take influence from, no Internet, no judgment, just pure unmediated life. I think that's what we need to write music. As far as content goes though, we want this upcoming album to be a little less planned than Cape Dory.
Paste: What are your plans for your next traveling adventure?
Riley: Right after SXSW we are planning to move our boat from N.C. to the Bahamas, but we only have about 1 1/2 months for the trip so it will be a bit rushed. Our next big adventure will be to from Florida to The Grenadines in November… if we can save enough money.
Paste: So, are you excited about the upcoming tour?
Riley: It gets better every day.
Others Tagged With