Getting to Know... Smith Westerns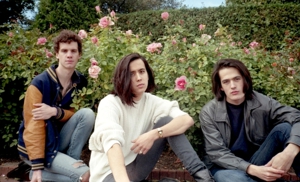 Hometown: Chicago, Ill.
Members: Cullen Omori, Cameron Omori and Max Kakacek
Album: Dye It Blonde
For Fans Of: Big Star, Girls, T. Rex
Early in their career, Smith Westerns were easier to categorize. The Chicago band, which was frequently grouped with similar lo-fi and garage acts, seemingly couldn't avoid descriptive words such as "ramshackle," "rambunctious" and "raucous." While these words may have represented a slice of who Smith Westerns were in their formative years, they speak little to what the band has become. On Dye It Blonde, the band's sophomore record coming Jan. 18 on Fat Possum, Smith Westerns have come into their own as both songwriters and musicians.
What's behind the band's obvious progression? For starters, Smith Westerns were unexpectedly thrust into the spotlight via a few early MySpace songs. From there, they hit the road in support of bigger acts, such as Belle and Sebastian, Girls and MGMT. Along the way, the trio took notes from their peers while making a name for themselves throughout the world.
The result is the glistening Dye It Blonde, an accomplished record from a band studying its craft and refining its sound. Paste spoke with lead singer Cullen Omori about growing up on the road, the differences between the band's two albums and his disdain for the phrase 'garage rock.'
Paste: What have been some of the highlights of your breakout year in 2010?
Cullen Omori: When we toured with MGMT, that was fun—that was a highlight. James [Richardson] from MGMT came out one night and played a song with us in Prague. Recording the record in New York was a highlight. And then probably playing Primavera in Spain, because that was the biggest crowd we've ever played for. Those were the really, really big things that happened.
Paste: Tell me about touring MGMT, compared to some of the others that you recently played with like Girls.
Omori: I think with Girls and MGMT—those have been our favorites tours. We're friends with [Girls]—I really like their music. But at the same time, I also had been listening to MGMT when I was junior in high school with their first record. Those two tours were definitely good but in different ways.
The tour with MGMT—their audience was super-receptive to us. It was really crazy. We had come off doing shows with Belle and Sebastian, Passion Pit and Florence and the Machine, and those crowds weren't too down. With the MGMT one, everyone seemed to like it—and the Girls' [crowd] is usually the one really into it.
Paste: When I saw you open for Girls last year in Atlanta, one of the first things I—and probably a lot of other people—noticed was how young you guys are. What's the experience like playing in bars and clubs around the world despite being underage?
Omori: I think it's cool. Before it was a really big issue when we were really young starting off playing in venues because we weren't making the venues any money. So it was a total liability to be in there. We were not helping them, and the only thing we would do is get caught and be in trouble. But the more tickets you sell, the more they kind of turn a blind eye to that stuff.
At the same time, it's been weird. I didn't really think about this until I got back from the last tour. [For many], you graduate high school and then you go to college, and it's kind of like day-care for grown-up kids or whatever. I went to college for a semester, but I think that [for us], the first time I was ever on my own was also the first time being on tour. You go from being in school and at home to being on the road, being at a bar every night.
Paste: You're forced to grow up on the road.
Omori: Yeah. I think we all kind of went crazy with it the first couple of months and then the novelty of partying every night started to wear off.
Paste: Has that growth affected the way you approached Dye It Blonde compared to the first album?
Omori: Definitely. We didn't plan for anyone to hear [Smith Westerns], really. It was just us on our MySpace, really. HoZac only did like 1,000 [records] the first time. Looking back at it, if we would have known that a lot of people were going to hear it, I think we would have altered it a little bit. But at the same time, I think we were really proud of it.
With the new record, it was a lot different. We didn't want to make the same thing. I think [after] going on tour and seeing a bunch of different bands we admired… we felt dated with our old album. We felt like we were falling behind the pack and wanted to catch up [and] make something we thought would stand up against it.
Paste: So do you think Dye It Blonde is more reflective of what the band will sound like going forward?
Omori: When we signed with Fat Possum, they wanted us to make more of a record that was like the old one and wanted us to record it ourselves. We had a couple songs off Dye It Blonde that we had recorded kind of in the same way that we had recorded the old album. But what we wanted to do was make something that was super-produced and super-layered.
I think that a lot of the bands that are popular—their whole [view] is like "we're minimalist" or super-lo-fi. What we wanted to do was flip-flop it around and make something lush and layered and show off that we can really write songs and play our instruments. We were tired of the fact that every review would use some dumb [description] like "youngsters" or "ramshackle."
Paste: Youngsters making garage rock!
Omori: And I don't really think I'm any of those things. For the first record, I thought it sounded good—I didn't think it sounded lo-fi. We thought it was clean enough to hear. For the second one, we wanted to make some pop that was smart that didn't burn out right away. With the new record we were trying to make songs that unfolded as you listen to them. We wanted to make something that was a lot more timeless—not to achieve being timeless, because I think that's a douchey thing to say. But making songs that stand up and wouldn't really be genre-specific.
Paste: Songs that wouldn't get lost in the lo-fi shuffle.
Omori: Exactly. Yeah, the whole lo-fi thing makes everything sound super-dated. The first record has melodies and the holes are filled in by noise and stuff. With the new record, we needed to fill in the holes with little portions of melodies and different phrases—that's where we started to put in some keyboard stuff. On top of making this album, we wanted to make it as modern sounding as possible.
Paste: Does that have to do with why you reworked "Imagine, Pt. 3"? That was one of your first songs I ever heard. Now it's completely different.
Omori: The way it's on the record is the way we wanted it to sound, but we couldn't make it sound [before]. The original was very much a blueprint of where we were going… That's exactly what we wanted to do; we wanted to make it sound larger and have crazier synth stuff. That is one of the reasons why we wanted Chris Coady to [produce] it; he knew and had a lot of equipment that we could experiment with…We couldn't do that before with a Garage Band plug-in.
Paste: Going back to how people lumped Smith Westerns into different musical categories, descriptions or influences—from garage to glam to lo-fi to T. Rex-inspired to Bowie-influenced: Do you feel any sort of relationship to those genres or artists? Are there others that inspire you more that aren't really mentioned?
Omori: I feel when people say "garage," it's insulting and means that you can't play an instrument very well—it's more of a live thing. A raw power, you know? With our new songs—or even the old record—we tried to make them as calculated as possible. Then with the whole Marc Bolan/T. Rex thing—we listen to that and it's good. But it's not like I have their back catalogue and I'm just singing at my house.
I think for our new songs, we wanted to be like John Lennon's solo stuff, George Harrison, Big Star. I personally was listening to the entire Oasis discography when I was making that album. A lot of arena rock. Sometimes, I think people think that certain bands must have this really rare record that they have sitting in their house, straight ripping it off and that's how they get their sound…I think we try listening to the most popular, big bands—we're not trying to find obscure bands. It's why the big bands are popular—because their songs are great.
Paste: You're making music for your own sake, not because of some obscure record.
Omori: We're trying to make accessible music that you don't have to work hard to get, but at the same time if you do know something about music—you can admire it.
Others Tagged With