Nintendo 3DS Gets Price, Release Date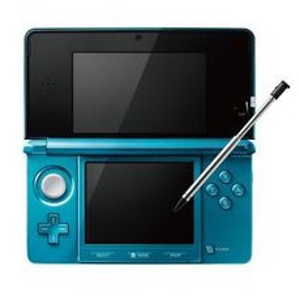 This morning, Nintendo announced that its upcoming handheld, the 3DS, will arrive in the U.S. on March 27 for $249.99.
The 3DS is the next generation of Nintendo's long line of handheld hardware, a genealogy that began more than 20 years ago with the Game Boy. It will feature the same dual screen setup as last generation's DS, but comes with a large hardware overhaul and the ability to render 3D images without the need for any sort of 3D glasses. Nintendo President Reggie Fils-Aime said at the event this morning, the new technology will make you "feel like the Nintendo 3DS screen is a lot bigger than it really is."
The hardware update also does wonders for the processing power of the handheld system. To put in perspective just how powerful the new system is, Nintendo 64 era games such as a new 3D version of The Legend of Zelda: Ocarina of Time will launch with the device. Other launch titles include Pilotwings Resort, Nintendogs + Cats, submariner Steel Diver, Kid Icarus: Uprising, Dead or Alive Dimensions, Madden, Super Street Fighter IV 3D, Asphalt 3D, Combat of Giants Dinosaurs 3D, Lego Star Wars III The Clone Wars, Ridge Racer 3D, and Resident Evil: The Mercenaries 3D.
Other new features include the ability to take and render 3D pictures on the device, as well as a built in accelerometer and pedometer. The system will be backwards compatible with Nintendo DS games, and many classic Game Boy and Game Boy Color games will be available for purchase through Nintendo's virtual console.
The price point comes as a relief to gamers looking for a handheld 3D experience, as focus groups had consistently placed the value between $300 and $400.
Got news tips for Paste? Email news@pastemagazine.com.
Others Tagged With