Off The Map Review: Series Premiere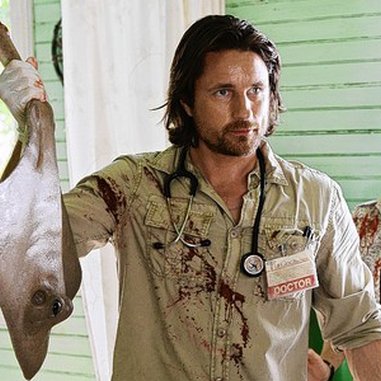 "Forget what you learned in residency, practicing Tropical medicine in a third world country is a different game." This is the lecture that resident Doctor Ben Keeton (Martin Henderson) gives to his new recruits. Off the Map begins with three new doctors arriving "Somewhere in South America." The creators waste no time trying to convince the audience that this isn't going to be just another medical drama—that in the jungle, medicine isn't practiced the same way.
Immediately after arriving, female lead Lily Brener (Caroline Dhavernas) is tasked to hold down a surfer as they extract a sting ray out of his foot. The surfer is flailing around, so Keeton punches him in the face and pulls it out. Laid on heavy, is the fact that only the tough can stick it out in the tropics, and location is the show's main sell. Filmed in Hawaii, ABC returns back to an island setting for the backdrop of their new medical drama. Created by Jenna Bans (Grey's Anatomy), there are a lot of similarities between the two shows. All the doctors just happen to be good looking. The male lead is charismatic, dashing. The females are chatty and already vying to get close to him. So at this point you might be asking yourself: Is it worth getting invested in another medical drama, particularly one that follows many of the same annoying tendencies of similar procedurals.
But if you're a fan of the genre, the island setting could become an interesting twist—the gorgeous locations, the injuries that could only happen in that kind of environment, the complete lack of an establishment to rein in the mavericks. In the premiere, there's a patient that needs to be rescued over a zip line. His arm caught in the line above, the new doctor Brener has to zip across to cut his arm out of contraption. After the man intensely starts shaking both of them, the new doctor grabs him by the throat and tells him to knock it off.
And the doctors, many of whom don't speak a lick of Spanish have to deal with shock of a new culture and locals who don't always appreciate their presence. There's a little bit of the Ugly American even among these gorgeous doctors, assuming that every fever is from a jungle disease, and that tennis elbow must be from a machete.
The problem is, the pilot just wasn't that exciting. It probably did enough to hold interest for its target audience, selling viewers on the possibility of a new take on an old genre. If it can avoid the tired tropes of other medical dramas, the pieces are there for the writers to take advantage of the exotic locale. Of course, when the inevitable romances develop, it could just become Private Practice: South America.
Others Tagged With