Ponderosa: Moonlight Revival
New West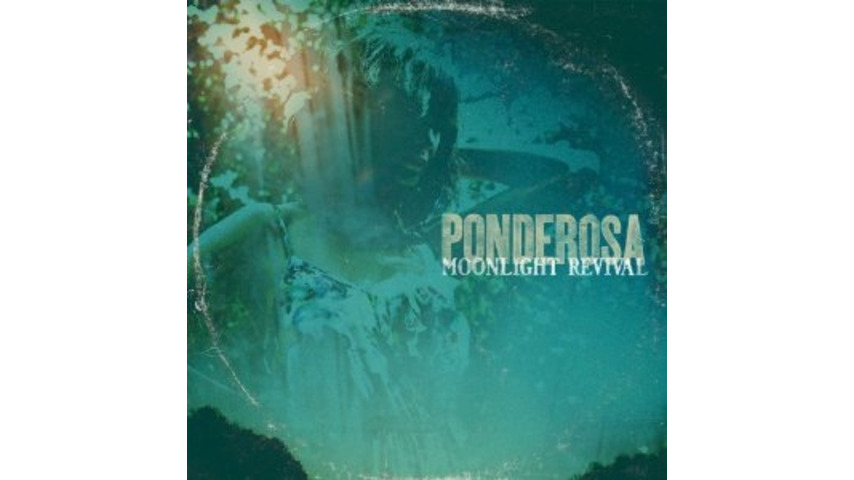 Great live band battles bad mastering, searches for its soul
At their best, Ponderosa puts some much-needed roll back in rock. It's something Keith Richards talks about in his new autobiography, Life, and something this Atlanta/Athens band seems to understand inherently. I'm talking about that gritty, soulful, free-swingin' blues-and-country-based rock 'n' roll sound that has almost entirely eluded the indie-rock world for years: a little bit of Muscle Shoals stirred in a pot with some early-'70s Stones, Rod Stewart-fronted Faces and their heirs apparent, The Black Crowes, then dashed with Zeppelin's sexy swagger and Skynyrd's Southern boogie. Ponderosa even adds Wilco's lush sparkle and some Beatles-inspired three-part harmonies for good measure.
On the more laid-back fare, singer/guitarist Kalen Nash, lead guitarist Kris Sampson, bassist Jonathan Hall, keyboardist John Dance and drummer Darren Dodd do a decent job of updating the weird, old Americana sound of The Band's self-titled brown album, though they polish it up a little much, losing most of the weirdness in the process. On a few tunes, Ponderosa also convincingly channels the sound of their New West labelmates the Old 97's, albeit without the clever lyrical turns of Rhett Miller. And, while Ponderosa never gets as outright mindless lame as Kings of Leon's "Sex on Fire" or Jet's "Are You Gonna Be My Girl," they occasionally flirt with the sound and lyrical territory of both bands—big, dumb, sweaty, bearded, panty-stealin' rock that might get you laid, but at the expense of your musical and lyrical dignity.
By now you're probably noticing how many different bands I've already referenced in this review who aren't Ponderosa. Eleven in all. This brings up an important point. Ponderosa still seems to be searching for what makes it truly unique. But this is okay. They're fantastic players and there are certainly hints of uniqueness on this album, two of which I've touched on already: the way they top their blue-eyed soul rock with crisp, contrasting harmonies, and their ability to bring a more modern sheen to classic sounds. Their most original turn on Moonlight Revival just might be "Little Runaway," during which they take the feel of Jackson Browne's "These Days" and crank it up, coming out with a new subgenre I can best sum up as Power Roots.
One other issue I'm having with Moonlight Revival is that it seems a little suffocating sonically, which I found strange at first since it's obvious that Ponderosa is not layering everything to death. My best guess is that the album is over-compressed and mastered too loud. This is a common problem with the way music is made nowadays, so it's not exactly fair to pick on Moonlight Revival, but with Ponderosa's gritty, downhome sound, it seems to hurt them more than others. The problem with mastering too loud is that it kills dynamics, since it lessens the depth-and-height variance of the loudest and quietest sound waves. It takes away space where space originally existed, and while it sounds rockin' at first, the music ultimately loses punch and crispness and air. What was once quiet in the mix becomes almost as loud as everything else, taking up more and more room, and resulting in an unnecessarily cluttered sound. Listening to a whole record mastered like this gets exhausting, leaving you overstimulated, ears gasping for breath. (If you're interested in learning more about this issue, watch this helpful two-minute video, complete with audio and video examples.) Also strange is that this decision happened on the watch of producer Joe Chicarelli, who also helmed The White Stripes' Icky Thump, an excellent-sounding modern record that avoided this pitfall. With due respect to Chicarelli and Ponderosa, producers and artists need to stop sabotaging their own records by asking mastering engineers to crank everything—they need to leave the the volume knob in the listener's hand, and the impact of dynamic range in their music.
All this said, Moonlight Revival is a solid roots-rock record, most of which will get your ass moving, even if it's firmly planted in a chair. And, more importantly, it's the first step of a talented, powerhouse live band still searching for its identity—and how to best capture the fiery mojo of its performances in a studio setting.
Others Tagged With