Shameless Review: Series Premiere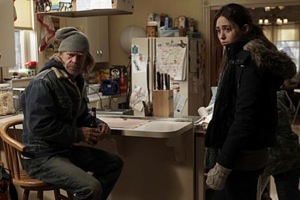 Once again the Brits have broken in a TV series before America takes it as its own. Although Shameless attempts to jam a lot into one hour, the show's tremendous cast, smart pacing and fresh storyline keep it engaging. And the longtime success of the British version is an encouraging sign that it could last awhile.
My primary attraction to Shameless was William H. Macy whose performances have impressed ever since his role as car salesman Jerry Lundegaard in 1996's Fargo. I expected Macy to be the bright spot in an otherwise mediocre series—but I greatly underestimated the show.
The Gallagher family may be a completely dysfunctional disaster, but at least they're a family, despite a constantly drunk daddy Frank (Macy). The motherless bunch survives, however, because Frank's eldest daughter Fiona (Emmy Rossum) refuses to let them do otherwise. Living in the projects, the six kids (all white except for a black toddler who Frank says resembles his sponsor) all contribute in their own ways—working odd jobs while going to school, scraping pennies just to pay the electric bill—while dad spends his disability check (headless chicken accident at a slaughterhouse) on booze.
Frank: "I gave my life to that company."
Fiona: "You worked there a week."
In the premiere Fiona meets Steve (Justin Chatwin) who defends her honor during an altercation at a club one night and is then unexpectedly introduced to the entire family. While the kids sleep, Steve and Fiona mix it up on the kitchen counter before being interrupted by the cops making a routine delivery of the dead-drunk Frank to the living room floor. Fiona says goodnight to Steve thinking she'll never see him again only to be surprised by his appearance the next day as he courts her with the delivery of a new washing machine.
The series is filled with likable performances in the packed first hour. Joan Cusack plays the phobic housewife Sheila with a clown-loving husband who chases two of the Gallagher teen boys out of the house after Sheila's nymphomaniac daughter performs fellatio on them under the kitchen table (the title should serve as a warning this is no ordinary family).
But it's Rossum above everyone else who sparkles in one of those watch-out-for-her performances. From resentment to despair, to joy and anger, her range of genuine emotion is inspiring. Macy, passed out in half of his few scenes, is naturally great. And though I tuned in mainly to see him, I'll keep watching to see Rossum.
Others Tagged With