Hot Chip + This Heat + Spirtualized = About Group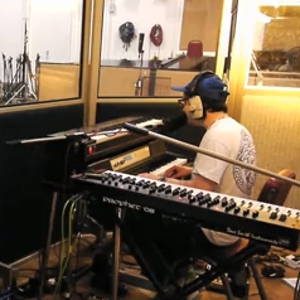 Two years ago, Hot Chip's Alexis Taylor teamed up with Charles Hayward (This Heat), John Coxon (Spring Heel Jack, Spiritualized) and Pat Thomas to form About Group, recording an improvised record together. Recently, the supergroup returned to the studio and have announced plans to release their new album Start and Complete this April.
For their forthcoming record, About Group chose to heavily improvise once again—recording the entire album in just one day and mix it within 72 hours. While Alexis Taylor had previously written the songs, the demo parts were only sent to the others a few days before the studio session because "The idea was that no one band member would know the songs well enough to have specific parts, or be prevented from playing something like the first ideas that came into their head."
About Group will release Start and Complete on April 26 via Domino Records. Check out a sample of the track "You're No Good" as well as the tracklist below.
Start and Complete tracklist:
1. Married To The Sea (a)
2. Don't Worry
3. With Each New Day
4. Repair Man
5. Lay Me Down
6. A Perspective
7. There's a Way To End This Run of Doubt
8. A Sinking Song
9. Nothing But Words
10. You're No Good
11. Rough and Smooth
12. Start and Complete
13. Dreamt I Saw You Late Last Night
14. Married To The Sea (b)
Got news tips for Paste? Email news@pastemagazine.com.
Others Tagged With