Beatles Fans Celebrate 50th Anniversary of First Gig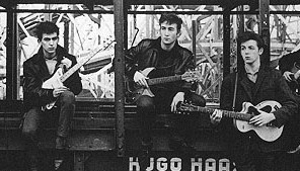 Today marks the 50th Anniversary of The Beatles' first performance. Fans are gathering in Liverpool to celebrate one of the most historic first gigs in music at the city's most iconic venue.
The Cavern, reproduced in 1984 after being demolished in the 1970s, will serve as the centerpiece of the the celebration featuring a performance tribute band The Mersey Beatles. The Liverpool Council intends to unveil a new canopy of lights over Mathew Street, where the club resides, affectionately dubbed "Lucy in the Sky with Diamonds."
When the original foursome first performed at The Cavern in 1961, with Pete Best on drums (replaced by Ringo in 1962), they were distinctly different from their peers, wearing leather bomber jackets and Cuban heels. "They would count in the songs by banging their heels on the hollow stage – they created a lot of excitement in the room," said Alex McKechnie, a director of the annual Mathew Street festival who witnessed the historic performance as a 16-year-old message boy in printing factory. "They weren't like any other band on the circuit."
The Beatles made a total of 292 appearances at The Cavern over the course of their career, that last of which occurred on August 3, 1963.
Got news tips for Paste? Email news@pastemagazine.com.
Others Tagged With