Best of What's Next: David Wax Museum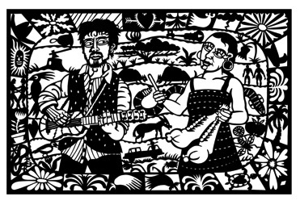 Hometown: Boston, Mass.
Members: David Wax and Suz Slezak
Album: Everything Is Saved
For Fans Of: Calexico, The Low Anthem, Devotchka
On a morning where David Wax plans to discuss his warm, endearing fusion of Mexo-Americana folk, he instead faces a blistering snowstorm that's putting his upcoming Everything Is Saved CD-release party in peril. As he scrambled to get his friends and family from across the country to the show, it never once crossed his mind to cancel the celebration. "That's the drag right now…it's making travel plans difficult for our guests right now very difficult," Wax explains. "Everything for us is a go."
It's with that same sort of relentless mentality that David Wax Museum approaches its live craft. In 2010 alone, Wax and Suz Slezak played over 200 shows, welcoming everything from house parties to major music festivals. As rigorous as their touring schedule was, the members of David Wax Museum flourished as performers as the result of playing night in and night out. "I think that really helped us hone our live show," Wax admits. "It really helped us come into our own as a live band."
While the Boston-based folk duo recorded a good portion of its latest record Everything Is Saved in early 2010, Wax and Slezak spent much of the year testing and tweaking their songs in front of their audiences. As a result, their record exudes a sense of confidence stemming from a lengthy process of musical trial and error, blending a seamless mix of Mexican and American folk into the group's triumphant sound.
Wax's immersion in Mexican folk music jumps out at first listen. After traveling to Mexico through a fellowship to study son mexicano, he absorbed the informal musical teaching process through learning by ear and playing along with others. This experience heavily influenced a good portion of David Wax Museum's aesthetic, instilling a multi-faced approach to the way Wax writes songs. "There's certain things maybe I'll try to start communicating in an Americana style, but then it may actually a lot more sense playing a Mexican rhythm behind it." Wax says. "It's kind of an ebb and flow of which one becomes more prominent at certain times in our musical development. But that's the music I know and that's the music I love."
Through this melding within his songwriting process, Wax has most importantly incorporated a magnetic energy formed through his ability to turn every show into an individual experience. Although David Wax Museum technically can be considered a duo, David Wax Museum has performed with over 10 people at a time, mirroring the sonic swells innate within the band's songs.
Despite wearing his band "ragged" on the road last year, Wax remains a wholehearted believer in David Wax Museum's dedication to touring, especially in support of Everything Is Saved. "To remain at our level, that's what it has taken so far to get us where we're at," Wax firmly asserts, "and that's what it will take to move forward."
Others Tagged With