EA Offers Incentives for Playing the Dragon Age II Demo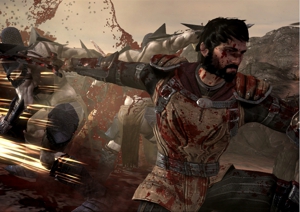 Yesterday, EA and BioWare released the demo for the upcoming RPG epic Dragon Age II. The demo is available now on the Xbox Live Marketplace and PC, and will be coming tomorrow for the PlayStation Network.
The demo gives players a glimpse into the world of the sequel to critically acclaimed Dragon Age: Origins, offering a chance to experience all three character classes and play though the prologue to the game. Upon completion of the prologue, players will get a glimpse of Kirkwall, one of the game's new cities, and meet Isabela, a smuggler who serves as a companion and potential love interest for the main character.
If simply getting to play the game early isn't enough for you, EA is adding an incentive for players who try the demo out. Players who complete the demo will receive the item "Hayder's Razor, an ancient dwarven blade which increases health, mana, and combat abilities, in the full release of Dragon Age 2." Additionally, if more than one million people download the demo, all those who do so will receive two books in the final release; "The Far Cliffs of Kirkwall" and "Lothering's Lament," which grant money and experience respectively when read.
Got news tips for Paste? Email news@pastemagazine.com.
Others Tagged With