Getting to Know... Telekinesis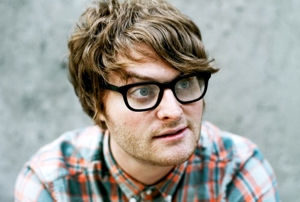 Hometown: Seattle, Wash.
Members: Michael Benjamin Lerner
Album: 12 Desperate Straight Lines
For Fans Of: Death Cab For Cutie, Rogue Wave, Spoon
Michael Benjamin Lerner never meant for Telekinesis to take off the way it did. Up until a few years ago, the Seattle-based musician spent the bulk of his musical career behind the drum kit. As Lerner picked up guitar, bass and vocals along the way, Telekinesis's infectious pop caught the attention of Death Cab For Cutie's Chris Walla—who ended up producing both of Lerner's first two albums. Paste recently chatted with Lerner about his new record, 12 Desperate Straight Lines, how drumming informs his songwriting process and falling out of shape between tours.
Paste: What were some of the biggest differences for you between Telekinesis! and 12 Desperate Straight Lines?
Michael Benjamin Lerner: Well [with] the first one… I wasn't planning to make a record until Chris Walla from Death Cab For Cutie got in touch with me and said, "Hey, do you want to make a record?" I was like "OK, I guess so [laughs]. That would be really fun." So I was writing those songs just for myself to see if I could actually make songs. I'm just a drummer basically trying to be a musician that's not just a drummer. For that first record, it was really naïve, not having any idea what was going on.
For the second record, I have been touring for the past two and a half years pretty constantly… Now there's a record label involved and it's a whole new set of pressures that are sort of put upon you that are probably internal pressures. Definitely not like Merge is putting any pressure on me personally. It's just a different feeling because there's a lot more now—I have managers now, I have lawyers now. The whole industry thing has made it different for this second time around.
Paste: It became more complicated than just writing pop songs.
Lerner: Yeah! Plus, I went through a lot personal stuff that was hard. I had health issues and then a relationship—it was just a lot more of a sad thing for more me than the first record.
Paste: With the first record, were you just posting songs on your MySpace, or did Chris find you a different way?
Lerner: Totally just putting the songs on MySpace. I knew Chris through Jason Mcgerr who plays drums in Death Cab with Chris. I just was putting them on MySpace and one day he e-mailed me…and said he liked my songs. That was pretty cool, obviously. Then, he didn't respond and I was like "That sucks," because I wrote him back and said thank you.
Then they played the first show of Narrow Stairs tour for Death Cab. After the show, I was hanging out and Chris came up to me and said "Do you want to make a record?" I was like "Yeah, sure." He heard it on my MySpace and probably heard through Jason that I was a songwriter. I wasn't even expecting anything to happen.
Paste: That must have caught you pretty offguard.
Lerner: It did. It really did. But it was a huge kick-in-the-ass for me. I really worked hard to get the songs ready before we went in the studio. Then he put some of the songs on this blog called Stereogum. It was a band of the week or something like that. I think Death Cab took over Stereogum when Narrow Stairs came out and they did all the programming on the website. He picked Telekinesis as the band to watch. Right after that, everything started to go crazy. I started getting e-mails from Columbia Records and they started calling me everyday and flying me to New York. This all happened within the span of a month. Then I made the record.
Paste: With a major label knocking at your door, why did you choose Merge?
Lerner: Merge was the first choice for me probably because… I worked at a record store for a really long time. You could really trust anything they would ever send you. If they sent you a promo and you had no idea who it was, you could totally put it on and be like, "Yeah, that's really good." Pretty much everything they sent us was really, really good. I just liked the general aesthetic of the label a whole lot.
I remember working at a record store when the Arcade Fire came out, the first one. Everyone freaked out about it at the record store and nobody knew who it was. It was pretty amazing to watch that band go from being the little indie band that could to huge indie band that could. They still remain an indie band because they're still on Merge Records—which three records later is pretty remarkable considering how many records they're selling and how huge their thing is now. I have this huge respect for the label, and I never thought that I would be on Merge Records.
The whole story about it happening was really weird because I had an offer from Barsuk Records and Columbia Records to put that first record out. I really wanted Merge to do it and we sent them the record a bunch of times through a bunch of different outlets and we never heard from them so I was kind of bummed….but at [the last minute] we heard from Mac [McCaughan]and Laura [Ballance] from Merge…and I freaked out. That was one of the best moments of my life. I really could not be happier than being on that record label.
Paste: I've read that the new album is a bit of a break-up record.
Lerner: Yeah, I think it's more than a bit. [laughs] It's pretty much a full-on break-up record.
Paste: Is writing a break-up song hard, or do you see it as more of a coping mechanism?
Lerner: I think I'm definitely OK admitting to myself and others that I'm a "heart-on-my-sleeve" type of human being. If I'm feeling something, I will definitely show it. It's hard for me not to. When it came down to writing music again, which was weird because I think most people talk about writing music on tour… I just can't do because I'm a drummer and I need a studio to actually write music. I couldn't really write at all because we were touring so constantly.
It was a really tense part of my life writing this record because going through that break up and also dealing with all these health issues personally. I think I didn't know any other way to get it out—not angr[ily], but "this is where I'm at" right now. It would have been impossible for me to write a happy song. I just couldn't do it—which really surprised me. But looking back on it, I think I'm really happy with how it turned out. I'm happy that it worked out that way.
Paste: In terms a being a drummer first before picking up guitar and bass later, how does that affect the way you write music?
Lerner: It definitely makes the music more rhythmic—which makes sense that I've started to write a lot more songs on the bass guitar. Bass and drums go hand-in-hand, you know. I approach things in a really rhythmic way a lot, with every instrument—guitar, piano, bass and then, obviously, drums. Even vocals.
I think it makes everything, maybe to a fault, more straight-ahead and just generally rhythmic. I'm really into drumming, so first and foremost it has to have a good drum beat for me. Most of the songs on that record are [with that in mind]. Like I do the '60s-Beatles drum beat all the time, like the [vocally demonstrates a drum beat similar to the ones used throughout "Day Tripper" or "She Loves You"]. That drum beat make me feel good all the time—and it's fun to play. I think that I always come back to that drum beat because it just reminds of The Beatles or The Kinks and all of that 60's British pop music that I was really, really into and am still into pretty heavily.
Paste: I didn't realize until recently that you were originally a drummer. When performing live, does that catch people off-guard? Does singing behind the kit affect your live shows substantially?
Lerner: Oh, yeah [laughs]. It poses lots of difficulties. The current difficulty that I'm facing is that I've been home for almost two months now, which is the longest I've been home now since I started this process two, two and a half years ago… [This break] was through the holidays, so I was eating and eating and eating and I've definitely gotten out of shape since last tour. So I'm super worried about getting on tour and huffing and puffing back there on the drums because it's a super physical process. I need to remind that I have to stay in shape to actually do it. Breathing is super-difficult.
It totally catches people off guard because the drums are set up at the front of the stage and that's inherently a scary thing for people because it's loud and big and not what people are used to. But I really hope we win people over by the end of the show—sometimes you can see people scared in the beginning and at the end they're not scared anymore.
Paste: Do you play drums the whole time or do you switch up with other band members throughout the show?
Lerner: We switch up a couple times during the set and I play acoustic guitar and sing, and then I go back to drums.
Paste: You currently write all the musical parts for your songs. Moving forward, do you foresee yourself switching gears and making the Telekinesis songwriting process more of collaborative?
Lerner: The band that's playing live currently is pretty unreal. This guy Cody Votolato is a pretty good friend of mine… He's a shredder—like a super, super, super crazy talented guitar player and he's an amazing songwriter. Just in the times that we've gotten together for, like, 30 minutes, we've written an entire song—that's exciting to me. Him and the bass player Jason Narducy—also an amazing songwriter. I think it makes absolute sense and I would be an absolute dummy if I didn't try to get them to write songs with me on the next record.
I'm really intrigued by making a record that is a band playing live in a room. That's what intrigues me is actually making a record in a short amount of time that has not been overdubbed and is the band in the room playing and microphones are recording that band. Sort of like the new Thermals record. They just played in a room and that's what you hear, that's what the record is.
Paste: Didn't The Thermals show up on 12 Straight Desperate Lines?
Lerner: They did. They sing on "Car Crash" and "Gotta Get It Right Now"—which is a huge thing for me. I'm a mega, mega-fan. Even though they're friends of mine, I'm a huge fan of their band.
Others Tagged With