Interview: Alister Grierson Talks Sanctum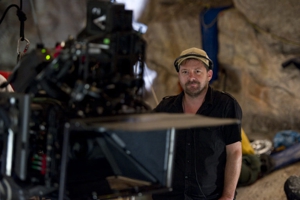 Alister Grierson's new film Sanctum is occasioning no small amount of attention and speculation, probably because of a) executive producer James Cameron and b) his proprietary Cameron/Pace Fusion 3-D camera systems that were used to film it. Regardless of the film's merits as a great story (and there are loud voices on both sides of that debate), few dispute that the images are spectacular. Shortly after Grierson touched ground in L.A. recently, and just before beginning his first round of stateside press conferences about Sanctum, he took a few minutes to chat on the phone with Paste.
Paste: Each film Cameron is associated with seems to have great technological advances. Can you tell me about some innovative things you did with Sanctum?
Grierson: We literally used the same cameras that Jim used with Avatar, with the difference of course being that we're 100% live action. Avatar was only about 20% live action. We took the cameras into environments no one's ever taken them into before, whether in underwater cave systems in South Australia or even on the soundstages in Queensland. We really put the cameras through their paces. There's water in almost every frame of the picture, which makes for a really challenging environment to shoot in. Extreme heat, extreme cold, extreme wet and extreme dry. Even on location we were in a jungle in Queensland. And even a normal 2-D camera is going to struggle in all those extreme environments. But putting those cameras in those worlds is really the most visually interesting part of the picture. Capturing live 3-D action in real environments. There's a real difference in doing that and doing, say, a post-conversion style of 3-D. That's really the big point of difference with us. I think we may be the first live-action drama to be done with the fusion style of 3-D camera system. So the pictures are stunning. The underwater sequences, especially, are very evocative.
Paste: There's a raging debate going on about 3-D. I think from a commercial standpoint there's no debate at all. But from a critical standpoint, a lot of people think it's the wave of the future, but a lot of people think it's taking away from storytelling. Tell me about using 3-D as a tool for telling a story rather than for its own sake.
Grierson: My take on 3-D is that it's the natural evolving process of filmmaking. All the movements going on in technology in film have been about trying to replicate human experience more naturally, and 3-D feels like a natural progression of that. Now it's still in its infancy; it's still in a transitional phase. And it's still yet to be embraced by some. I'd love to see a Sundance indie filmmaker embrace 3-D and tell a kitchen sink story with it. I think it'd be stunning. It becomes more absorbing experience to watch, from my point of view. My other take on the 3-D debate is that it's interesting that some of the more established critics are so against it. I can't quite put my finger on it, but maybe it's like if they spend their whole lives watching movies in 2-D, why bother with 3-D? And look, I get that, but my answer is, just don't go see the 3-D movies. If you don't like it, don't go and see it. I think filmmakers should offer up both a 3-D and a 2-D version, and people should go see the one they think they'll enjoy most. Having just made a movie and having seen it a hundred million times both in 2-D and in 3-D, I can testify that the 3-D is a more absorbing experience. I think the film works very well in 2-D, and I think it's wonderful. But you know, it's like the sound. Our sound is Dolby 5.1. Visually, we're just catching up with where we've been aurally. The sound design on our picture is incredible, by Paul Perolla. Why not have the pictures to match the sound?
Paste: That's a great point; I've never heard anyone make that particular argument, but it makes sense.
Grierson: Look, the next picture I make might be 2-D or 3-D, it will depend on the circumstances. But I'll advocate to make it in 3-D regardless. The technology's evolving so quickly, just like the HD camera systems are evolving so quickly. We've got the RED system coming into play, the Alexa system coming into play, and we're getting Fusion style rigs with those cameras. Those are really exciting developments. There's a different mindset required when you're making the picture, but it doesn't interfere with making the picture. Our problems had nothing to do with the 3-D; as long as you've got your data management systems in place, you're fine for the 3-D. Our problems were twofold. The first was water, obviously, because any time you bring water onto a set you create issues—technology issues, safety issues, a whole variety of issues. But we were shooting in a cave, so our biggest problem was light. How do you light a scene where there is no light? Without it looking like some kind of a Disney-style picture. Ours is a very grounded picture, and realism is a key part of the aesthetic. But if you're in a cave that has no light, how do you motivate a light source? So you can imagine the problems there.
Paste: Yes, I can imagine that would be quite a challenge. And being a filmmaker myself and knowing how much goes into the editing room in 2-D, trying to get a beautiful image up there, I can only imagine how much more work it must be to edit a 3-D movie.
Grierson: Interestingly enough, it's no bigger deal than in 2-D, because we actually cut in 2-D. You could cut in 3-D if you chose, but I think at the end of the day the cut is all about the story. It's all about refining it down, focusing in on the characters, the relationships between the characters, their arcs, and the story arc. And then in a way the 3-D, the visual effects, the sound and so on actually become more of a distraction to what your main focus is in the cutting room. So our workflow was pretty much the same as it is in 2-D. And then what we do is get to an assembly stage. We watch a version in 2-D and in 3-D, and the 3-D only becomes an issue sometimes with shot selection. If you've had some issues gathering some information in a shot in 3-D, you might sometimes find a certain cut would be an issue. But often you discover that it's not really the cut, it's how you're managing the image in post.
Paste: Okay, I see.
Grierson: For example, one of my personal choices, that might not be shared by other filmmakers in 3-D, is that I wanted to make sure that the incoming frame of each shot in the film converged on the point of interest, where I thought the audience's focus would lie. That way it would be less jarring an experience to see in 3-D. Our philosophy of 3-D is that we don't draw to the 3-D; it's a very natural 3-D. And I don't want the audience to have an uncomfortable experience in the cinema. Just like in a 2-D film, you want them to be able to track their storytelling. Are you with the audience, ahead of the audience, or behind the audience at any given moment? And in a way, my philosophy of the 3-D was very much the same. I want their eyeballs to be where I want their eyeballs to be. So I'd always make sure that my convergence was set, with the incoming shot, at a very comfortable level.
Others Tagged With