Portlandia Review - "Baseball" (Ep. 1.06)
[IFC]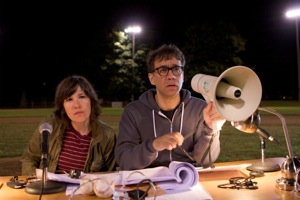 This week's "Baseball" episode marked the sixth and final installment of the IFC's short-run sketch comedy series Portlandia, with Saturday Night Live's Fred Armisen and Sleater-Kinney guitarist Carrie Brownstein playing a cast of motley characters in the Rose City. (It'll be back next year with a double order of episodes.) The episode bounced back after last week's terrible "Blunderbuss," but it still wasn't an out-of-the-park home run.
After visiting Baltimore and catching an Orioles game, the hapless, but well-meaning mayor (Kyle MacLachlan) decides to bring a pro baseball team to the city, and instructs Carrie and Fred to find athletes who can hit, throw and catch (among other skills). "I noticed while watching a game, a lot of standing around," adds the mayor. The trio brainstorm names for the team and ultimately decide on an appropriately cool, yet non-sports-related moniker: The Portland Thinkers.
Fred and Carrie obviously haven't clue about baseball, or athletics in general, so they audition players much like a Hollywood casting call. Fred instructs one candidate to role play with him: "I'm going to play a part of a steroid salesman, I want you to turn him down." In the end, the 2011 Thinkers team photo reveals a motley crew—of eight players.
While baseball was the recurring theme throughout the episode, the funniest skits were the ones that poked fun at current trends, like chefs who are turning into the new rock stars, or played off buzzwords like "hand-crafted." In one sketch, we meet Robert Wilson (Armisen) an Artisan Bulb Maker, who handcrafts light bulbs and sells them for $68 apiece. They might burn out after a couple of days, too, but at least they're handmade, right? In a funny cutaway, one of Wilson's customers is giving a testimonial in the dark after placing a light bulb order about 14 months ago.
And what self-respecting (or is that self-loathing?) hipster doesn't enjoy the outdoors— especially when there's a picnic and movie screening involved. Fred and Carrie bring a wagon loads of dry goods to the park for the show. They mark off their territory by measuring the square footage, dropping stakes in the ground and building a white picket fence around their property line. After settling in and watching a little bit of the movie, Fred turns to Carrie and says, "If we leave right now, we can beat the whole crowd." They start packing up—and that's a scene that a lot of us can relate to.
Portlandia definitely isn't for everyone. The show is at its best when it skewers the holier-than-thou attitudes of soy latte drinking, McSweeney's reading, CSA veggie-eating denizens of Coolsville. Are all the skits winners? Definitely not. The residents of Portlandia will drive you nuts every now and then. But if you give the show a little patience, it will deliver moments of brilliance, offering us a little cultural insight and a chance to laugh at our society's foibles.
Stray Observations:
• Heather Graham makes a brief guest appearance as a woman who drops in on a journaling workshop at Women and Women First Bookstore and reads about her love for her boyfriend Chad. The group is not amused.
• "We just started our Tantric sex experiments, and he worshiped my yoni for two hours."
• Sign-in sheet at the journaling workshop asks participants for Name, Phone and Day of Cycle.
• Carrie Brownstein's chef character during a photo shoot: "I'm just going to do a line of flour."
• Carrie at the outdoor movie screening: "It's weird no one brought a hot plate."
Others Tagged With