Portlandia Review: "Blunderbuss" (Episode 1.05)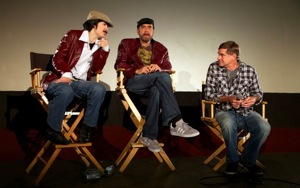 Episode 5 of Portlandia, IFC's hipster-skewering series, featured a number of guest appearances, including actress Selma Blair, director Gus Van Sant, and musicians James Mercer (The Shins, Broken Bells), Corin Tucker (Sleater-Kinney), and
and Colin Meloy and Jenny Conlee of Portland's hometown heroes The Decemberists.
Unfortunately, even with all that musical star power, the episode hit the wrong notes, with most of the sketches falling flat. (The skit success ratio was similar to Portlandia co-creator, co-writer and co-star Fred Armisen's other show, Saturday Night Live, especially when Alec Baldwin or Justin Timberlake aren't hosting.)
Most of the on-screen action focused around Blunderbuss—a new music and film festival in town, that's either been named after a muzzle-loading shotgun or a blundering fool. (Besides, Bonnaroo and Bumbershoot were already taken).
In one of the show's opening scenes, the band Echo Echo (Meloy, Tucker and Mercer) try to check in at the trendy Deuce Hotel. Naturally, there's a DJ in the lobby, spinning announcements like "Welcome to the Deuce Hotel…please enjoy your stay" or "Free continental breakfast" on the ones and twos. Guests are instructed on how to use the bathroom's ultra-modern sink (which no one can figure out how to turn on), and in one of the show's funniest sight gags, they're also given a complimentary turntable at check-in.
Conlee plays the only member of the band Sparkle Pony in a weaker skit that's woven throughout the episode. She wanders from club to club trying to find her right gig venue, but no matter which bar, the bouncers can't find her name on "the list." When she gets denied access or stresses out, Conlee travels to her safe place—a fantasy land where she pets and brushes a miniature white pony. It was a little bizarre, and we don't mind things that are off the wall, but this just wasn't that funny.
The show also spoofed the hipster's love of acupuncture. As a therapist finishes setting needles for a treatment, he asks his patient if she would like some musical accompaniment to help relax. She says yes, and in walk Armisen and Carrie Brownstein (show co-creator) for a live gig. They plug in their keyboard, electric guitar and amps and do a soundcheck before diving into a full show. Jenna, the patient, becomes a lot annoyed and asks them to turn it down. They finally get into a quiet groove, and Jenna falls asleep, but they wake her up so she can hear their entire song. We were just as annoyed as Jenna with this skit.
Lest we forget that Blunderbuss also has a film festival arm, Portlandia cuts to Gus Van Sant moderating a Q&A session after a screening of Anthony's and Paul's (Armisen and Brownstein in drag) film Looking for Mr. Right. The two are dressed in appropriate festival attire: Leather sport coats, dark jeans and pageboy caps. Half of the audience slowly skips out during the talkback session, and while the filmmakers aren't looking, Van Sant ditches his duties, too.
There was so much potential for fun at a music and film festival, but the problem with this episode is that it tried too hard to skewer the cool kids. Taking indie life at face value —like the scene at the hipster hotel—was funny enough without adding little white ponies to the mix. Portlandia has one more show left in its six-episode season run, so let's hope it gets back on track after this Blunderbuss experience.
Stray Observations:
IFC announced earlier this week that Portlandia will return next January for a 10-episode second season.
It was a Sleater-Kinney reunion of sorts with Corin Tucker joining Brownstein for this episode.
Armisen explaining the sinks at the trendy Deuce hotel: "The sink is really weird. It's going to look like there's no faucet. Butt whenever you feel the need to brush your teeth or whatever, don't worry about it. It will happen."
Brownstein hands out records to go with the complimentary turntables at the Deuce: "Here's a Kenny Loggins record…there's only one song that's cool on it."
After their gig in the acupuncturist's office: "There's CDs out there and they're not labeled. But that has our music on it. They look like blank CDs."'
On a flier for a lost kitty that's tacked over a Blunderbuss sign: "Named 'Jennifer' but responds to 'Jenny'
Others Tagged With