Sundance Reviews (Lord Byron, Uncle Kent, Jess + Moss)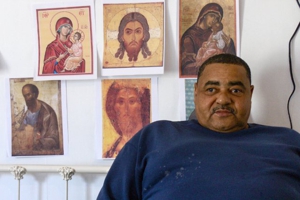 Film editor Michael Dunaway was at Sundance this year. Here's a round-up of some of the experimental films he saw.
Lord Byron
Byron is one of the most fascinating characters of the festival, a sweet-natured, philosophical, hugely overweight, womanizing, loquacious, pot-smoking man in rural Louisiana. And that description doesn't even hint at half of the charm that Paul Batiste brings to the role. Zack Godshall's second Sundance film (he directed and cowrote Low and Behold in 2007) traces Byron's spiritual journey to a sort of Taoist self-discovery, and it is as endearingly strange as it sounds. Made for less than $1000, it's the kind of "Sundance film" that will (and, in fact, did) polarize audiences extremely. But taken on its own terms, its charms are considerable.
Uncle Kent
Joe Swanberg's next film was always going to garner a lot of attention, after the Mumblecore pioneer had his biggest breakthrough with 2009's Alexander the Last. Uncle Kent proves well up to the scrutiny. It focuses on Kent, a quasi-biographical character played by Kent Osborne, and his weekend visit from a female friend he's flirted with on Chatroulette. There's a slight problem, though, in that she's already got a boyfriend. The fumbling negotiating of their weekend activities (including the most painfully awkward threesome ever) provides an interesting implied commentary on life in the socially-connected world. In keeping with Swanberg's longstanding advocacy for internet distribution for film, Uncle Kent is currently available anywhere in the U.S. via Sundance Selects.
Jess + Moss
Jess + Moss has perhaps the simplest plot summary of any of this year's Sundance feature films—an eighteen-year-old girl and twelve-year-old boy walk around small Kentucky town talking and waiting for something to happen. Nothing ever does. What makes Clay Jeter's slow-paced talkie interesting, though, are very strong performances from his two characters (Sarah Hagan, of Freaks and Geeks and Buffy fame, and Austin Vickers), and the gorgeously lush cinematography. The interiors are cluttered and depressing, but when the pair venture out, the world around them, even in its inane details, looks so beautiful as to suggest a hope of transcending their circumstances. And the unvarnished matter-of-factness with which Jeter treats the dialogue, ironically enough, ends up elevating each piece of it and revealing two memorable young people.
Others Tagged With