Weezer, Cut Copy, Yeasayer Lead Free Press Summer Fest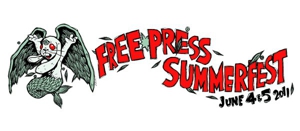 This June, Houston, Texas will play host to the Free Press Summer Fest, a two day celebration of "incredible music and happy, fun times." Weezer, MF Doom, Ween, Cut Copy and Yeasayer lead an impressive list of acts set to perform the festival on June 4 and 5.
The festival will have a number of pass tiers, including General Admission, Fancy Pants, the High Roller and the newly-introduced Dancey Pants. According to the press release, "The Dancey Pants pass is a special pass for the Dancey Pants Electronic Music tent that is a swanky VIP area which will feature TBA big name electronic headliners, complimentary drink menu, and a big crowd of people who are cooler than you." We'll say it one more time: Dancey Pants.
For tickets or more information, check out the Free Press Summer Fest website. Check out the lineup below:
Weezer
MF Doom
Ween
Cut Copy
Yeasayer
Sharon Jones and the Dap Kings
Z-Ro
Black Dahlia Murder
Girls
Big Bang
Hayes Carll
Bun B
Killing Joke
Tobacco
Black Joe Lewis & The Honeybears
HEALTH
Junior Brown
Fucked Up
The Black Angels
Lower Dens
Kylesa
Eternal Summers
Thavius Beck
Protomen
The Memorials
Those Darlins
Amplified Heat
The Roller
Indian Jewelry
Iron Age
Espantapajaros
By the End of Tonight
RIVERS
Amplified Heat
Black Leather Jesus
Featherface
The Back Pockets
Vincent Priceless
Pasadena Napalm Division
Clockpole
Delicious Milk
Cavernous
Somosuno
American Fangs
The Handshake
Woozy Helmet
The Grass Skirts
Niceguys
Venomous Maximus
Linus Pauling Quartet
The Hates
Tha PHounDation
Young Girls
Glasnost
Stephen Farris
Female Demand
Arthur Yoria
Simple Success
Black Congress
Defending the Kingdom
Buxton
Eastern Sea
Leg Sweeper
Romulus Ate
Disfrutalo
B L A C K I E
Perseph One
Roky Moon and Bolt
Weird Party
Dead Revolt
Muhammadali
Nosaprise
Rusted Shut
Somosuno
Cop Warmth
Organ Failure
Giant Princess
Poopy Lungstuffing
The Annoysters
Los Skarnales
Ani DiFranco's Dick
Jody Seabody and the Whirls
State VS Judd Nelson
Thunderkunt
Wild Mocassins
Sideshow Tramps
Co-pilot
The Watermarks
Limb
Sings
Giant Battle Monster
Young Mammals
Vivian Pikkles and the Sweethearts Uber Alles
Robert Ellis
Ceeplus Badknives
Grandfather Child
The Ton Tons
Eyes Burn Electric
The Manichean
Tax the Wolf
The Mahas
+ More to come, if you can believe it.
Got news tips for Paste? Email news@pastemagazine.com.