Willie Nelson, Wynton Marsalis and Norah Jones Collaborate on Ray Charles Tribute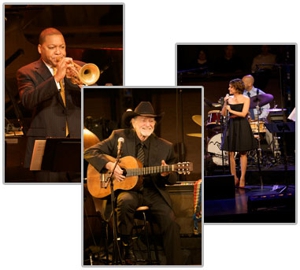 A few years ago, country legend Willie Nelson joined jazz legend Wynton Marsalis to record Two Men with the Blues. The 2008 release of their live performances at Lincoln Center was heralded by reviewers, Paste envisioned an audience out of its seats and on its feet.
The pair have returned with another collaborative project, this time with the addition of the talented Norah Jones. Marsalis and Nelson held an encore concert at the Rose Theater in 2009, invited Jones, and the trio presented an assortment of the late Ray Charles' music. The new, original arrangements span multiple musical genres. Composed by Marsalis and other artists from Lincoln Center, the songs were recorded and will be released by Blue Note on March 29.
"It's what I call root-groove music," Marsalis explained in a statement. "The root music cuts across all the boundaries and genres in American music…There was a time in the early '50s when artists would come up and be influenced by all types of music." Nelson agreed, saying, "You have to love all kinds of music to put your own interpretation on [the songs]."
Tracklisting for Here We Go Again:
1. "Hallelujah I Love Her So" (Gospel 2-beat / Boogaloo / 4/4 Swing)
2. "Come Rain or Come Shine" (Walking Ballad)
3. "Unchain My Heart" (Bolero with Habanera bass)
4. "Cryin' Time" (Country Ballad)
5. "Losing Hand" (Dirge with Chain-Gang Shuffle)
6. "Hit the Road Jack" (Gospel 2-beat / 4/4 Swing)
7. "I'm Moving On" (Boogaloo with Afro-Latin Backbeat / 4/4 Swing)
8. "Busted" (Gospel 12/8 Shuffle)
9. "Here We Go Again" (Rhythm & Blues 12/8 Shuffle)
10. "Makin' Whoopie" (Hard-Bop 2-beat / 4/4 Swing)
11. "I Love You So Much" (It Hurts) (Waltz)
12. "What'd I Say" (Boogaloo)
Got news tips for Paste? Email news@pastemagazine.com.
Others Tagged With