You Don't Know Jack Review (Multi-Platform)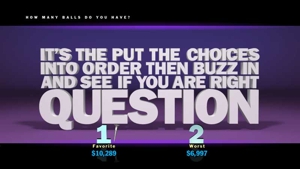 Growing up, I never understood what people meant when they talked about "bias" with regard to standardized testing. I might have reasoned that tests like the GRE and LSAT were simply collections of paired questions and answers, and correct answers were the same no matter the backgrounds of the test-takers. I might have argued that nothing about one's ability to recall an important date in history, derive a function, or pick out which house in a hypothetical scenario is painted green should have to be explained through one's gender, ethnic heritage, or economic circumstances—one either had the right answers, or one did not.
These opinions were formed many years ago in a suburban vacuum, and have changed considerably and decisively over time. I did not expect to run headlong into the topic while reviewing game-show-game reboot You Don't Know Jack, but that's a pretty fair description of how it all went down. After trying a round of YDKJ as a solo endeavor (an experience only slightly more pleasurable than flipping unaccompanied through a stack of Trivial Pursuit cards), I enlisted the help of my wife.
In case you did not own a CD-ROM enabled PC during the great YDKJ boom of the late '90s, the game is constructed mostly of multiple-choice questions, set atop a no-frills interface and a game show backdrop. There's no shortage of charm, much of it provided by flexible commentary from the game's wonderfully voiced narrator (Tom Gottlieb reprises his role as show host Cookie Masterson), but the real magic of You Don't Know Jack is found in its questions. Although the knowledge it tests is standard Jeopardy fare, the game requires that players carefully parse its wordplay (often lousy with pop-culture references) before attempting most answers, yielding an experience that owes almost as much to the puzzle-game genre as it does to the offbeat TV quiz shows of yore.
By the time the credits rolled after our third consecutive game, my wife—a woman whose intelligence is matched only by her competitive streak—had made up her mind. "I don't get this game," she said. "I mean, I get it, but why the hell does it have to be so distracting?"
It had been a frustrating experience for her; she had managed to secure the moderately humiliating "Wrong Answer of the Game" three times out of a possible three. The names of the game's head writers began to inch up the screen: Arnie, Andy, Steve, Phil. Without noticing, she continued: "The people who wrote this game were obviously men." Next, the lead writers: Spencer, Brian, Dan. The questions had seemed reasonably gender-neutral to me, and I had played earlier YDKJ releases in the company of female friends (one of whom introduced me to the series in the first place). And yet even as it occurred to me to say so, name after dudely name scrolled across our television. With one exception (contributing writer Catherine Oddy), the writing team for You Don't Know Jack appeared to be solidly male. I held my tongue.
While I feel utterly unqualified to evaluate my wife's experience any further, I can safely agree that YDKJ is an exercise in distraction. Besides the deliberate diversion of pitting questions about Alcoholics Anonymous against answers about snack foods, the game's bombardment of visual and auditory stimuli occasionally makes it difficult to figure out where the '90s-flavored sarcastic banter ends and the questions begin. Reviewing the game on an Xbox 360, I found the game's delivery a bit too rapid to digest from the comfort of my couch, and noted that it had managed to preclude any conversation among players except when paused—both odd quirks for a self-described "party game." These were problems that I didn't remember from playing older versions on the PC, leading me to wonder if maybe the act of sitting upright in front of a computer monitor has a natural way of enhancing one's ability to absorb large doses of information while diminishing one's desire to communicate with others. (For the record, the new You Don't Know Jack is also available for PC, so do feel free to give this experiment a whirl.)
Gripes notwithstanding, the thoughtful, artful, and comedic delivery of You Don't Know Jack pays ample homage to its roots. Fans of earlier installments will find their reunion with the series both nostalgic and fulfilling, and early buyers will receive the additional treat of reasonably current pop-culture references. With 73 episodes (10 questions each, plus a "Jack Attack" lightning round) and 10 additional DLC episodes already available for purchase (though from what I can tell they are only available on the 360 and PS3), there is a ton of content to explore and an absolutely mind-boggling amount of VO work. Truth be told, if you burn through a round with a perfect score, you're doing yourself a disservice—no wrong answer is spared ridicule, and the additional commentary is often well worth the moment of shame.
And I know all about shame. My personal stats reveal a positive win record, but You Don't Know Jack has found my performance wanting and bestowed upon me the rank of "Halfwit." (It's not true, I swear.) The game's pacing and style managed to utterly frustrate my wife, but I have no excuses—I understand its tricks just fine, and yet until the final (and somewhat unbalanced) lightning round of any given session, my score was often displayed in a nice, deep shade of red.
We're all different people with our own unique experiences—no matter who we are or where we come from, we're not going to get everything right. Depending on our circumstances, we might even pick the clearest incorrect answer in the game with 100% accuracy (or discover that we've elected to marry such a person). It doesn't mean that we're stupid, unemployable, or unfit for higher education—it only means this: We don't know jack.
---
You Don't Know Jack was developed by Jellyvision and published by THQ. It is available on Xbox 360, PS3, Nintendo DS and Wii, and PC. An Xbox 360 copy of the game was reviewed.
Dan Apczynski lives in San Francisco, California, where he is the education editor for Acoustic Guitar magazine and editor of the videogame culture blog Gamer Melodico. Find him on Twitter @DanApczynski.
Watch the trailer for You Don't Know Jack:
Others Tagged With