A Brief History of the Uncharted Movie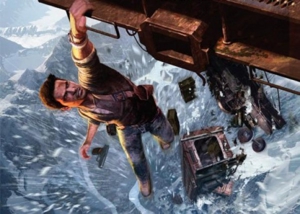 For the uninitiated, the Uncharted videogame series is getting a movie adaptation. That movie is being written and directed by Hollywood star director David O. Russell, who recently received an Academy Award nomination for helming The Fighter. Even more, Academy Award nominee Mark Wahlberg (best supporting actor in The Departed) is attached in the starring role of Nathan Drake. And yet, the fans are pissed.
"I'm almost done with that script, and that's going to be really fantastic," the writer-director told IGN in early February. "I think if we take that family dynamic that we have in The Fighter, and put that in terms of a grander stage, with a crime family that metes out justice in the world of art and antiquities. If you're the head of a museum, or head of state, you've got to deal with them, and they're badass. They're like the Sopranos in some ways, but they have great taste, and they have a sense of justice. I would love to do that with Mark [Wahlberg], Robert De Niro, and a couple of hot women, it could be very thrilling."
So why are fans upset? The first blow was the choice of Wahlberg in the starring role, as many believe Castle and Firefly star Nathan Fillion would be a better choice, based upon his resemblance to the character in looks, voice and attitude. More importantly, though, this script Russell is working on doesn't sound very much like the game at all. The game series stars Nathan Drake as a treasure hunter, not a criminal. He explores ruins with the assistance of his old pal Sully and often a female companion, not a Sopranos-style crime family.
The good news is, Russell is an excellent director, and has stated that he won't make the movie unless it is going to be good. "Listen, there's going to be romance and sex, I promise!" The director said at the Oscars, speaking to MTV Movie Blog. "I don't know if they'll let me make an R-Rated videogame movie. It'll have to be PG-13. I'll show as much skin and as much language as I can at that age, and I hope they push the limit. I heard they're going to push it a little bit."
The other good news? Wahlberg also spoke to MTV at the Oscars about the issue of the female leads. "I think he was talking about Eva Mendes and maybe Scarlett Johansson," he teased. "But, you know, whoever he wants."
Got news tips for Paste? Email news@pastemagazine.com.
Others Tagged With