An Appropriately Epic Dragon Age Retrospective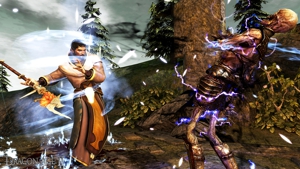 Page 1 of 3
Kirk: I'm excited about Dragon Age 2, which is mostly due to the fact that I loved Dragon Age: Origins. I remember that before it came out, I was largely unsold on just about every aspect of the game. The graphics looked dated, the combat was dated, the story looked entirely unoriginal... and yet as I started playing I fell under its sway and sank a ton of hours into it, making my way across Ferelden and finally defeating The Darkspawn. Yes, the enemies in the game are actually called "The Darkspawn." Shut up. It's awesome.
The Dragon Age 2 demo is out, and I played through it at a press event a couple weeks ago and was more happy to see that the game looks and plays far, far better than its predecessor, particularly on consoles. I played the 360 version of Origins back in 2009, and after seeing the PC version in action I got pretty bummed out; clearly I'd spent sixty hours playing through an inferior version of the game. Moreover as I once loudly complained, the console interface was a mess, which is getting to be a bit of BioWare perennial. If the shift from Mass Effect's horribly broken UI to Mass Effect 2's comparably unterrible one is any indication, DA2 console players are in for a kinder experience across the board.
A breakdown of the mechanical tweaks and improvements on offer: For starters, the BioWare spokesperson at the event was still repeating that "Press a button and something awesome happens" mantra, which to my ear really does seem like a one-sentence summary of the console-ification of PC RPGs. That said, when I played DA2 on 360, I noticed that my LadyHawke Rogue attacked every time I pressed the 'A' button. Those who played Origins on console will know what a huge shift that is—and to be honest, it's a shift for the better. I didn't quite feel like I was playing Fable, but combat did feel much more visceral and satisfying. Past that, combat played out faster and more smoothly, and abilities recharged far more quickly than in the first game. Conversation, as I think we all know, has been moved from a list of specific responses to a radial menu of dialogue-approximations a la Mass Effect.
Perhaps more intriguingly, the entire game is presented as what's known as a Frame Narrative—the story's narrator is a wily dwarf named Varric, and the game follows his recounting of the legend of Hawke, the game's protagonist. At times, Varric will take liberties with the truth, subtly altering the way the game plays before his interrogator brashly interrupts him and tells him to "get it right." This happens early on in the demo, and it seems to open the door for some very interesting storytelling tricks.
Now that the demo has been released to the public, I thought it would be fun to have a discussion about it, and about the series in general. For as fun as my return to Ferelden was, it raised as many questions for me as it demonstrated promising improvements. In addition to being a great writer and editor, my friend Denis Farr is one of the internet's foremost Dragon Age experts, so I figured he would be the guy with whom to break it down. Denis, what say you?
Denis: From what I saw in the demo, the cutscenes and combat are both more mobile this time around. A lot of the conversations in the first game felt like set pieces moving in a very conservative manner, but the BioWare focus on film here is peekingthrough yet again. Combat in Origins had a 'move your chess piece here' and then click buttons feel to it that is not as evident from what I've seen thus far in the demo.
Now, the intro in the demo is interesting, but I wonder how often we'll see sections where you repeat the story because it was too grandiose in the telling the first time. It seems like a one-off thing, and in a story that is as focused on action as this one (I didn't press A, but almost every press of 1 and 2 had much more oomph to it this time around), I can't see it being utilized too often, if any more beyond the demo/tutorial. I am curious, as it does seem like an interesting way to tell a story from different angles, or to give a different type of foreshadowing by putting us in media res.
Kirk: I agree, it's a cool idea, and it was handled pretty cleverly. Little things, like the fact that Hawke's sister's boobs were ginormous in the first flashback and then much more normal (or at least, normal for Dragon Age) in the second one... if they can keep that kind of creativity throughout the game, it could certainly be a well to which they return throughout.
Denis: Which is also brilliant as it characterizes the storyteller, and his audience, moreso than just seeing him in the actiony bits. Ultimately, what we've been shown thus far has mostly focused on the action of the game, which I can't even say appealed to me in the action-centric Mass Effect series. I'm excited to play a warrior moreso than I was in Origins now, but the combat in the first game was passable enough for me. Therefore, I have to wonder how they'll juggle both having all these potential tools for telling a story in an intriguing manner with the goal of making the game's combat not as stodgy as the first game.
Kirk: Yeah, and this is actually an area of concern for me. The thing I noticed when playing the demo was how restrictive everything felt; a consequence of a more-or-less linear demo I suppose, but I'm a little bit worried that even the full game will feel a bit claustrophobic? For whatever reason, I was able to get into the constant conversation/combat/conversation ebb and flow of Origins, but I think that might've been due to the throwbacky nature of the combat... combat now (especially on 360) plays a bit like a Fable game. And I mean, even those games feel restrictive, and they're far more open than what I saw of Dragon Age 2. The pacing had been dialed up, but the nature of the encounters was very much a linear drip-feed. Maybe it's just that new Skyrim trailer burning in the back of my brain, but for some reason it wasn't quite enough for me.
Denis: Which is why I feel ambivalent about the demo--I believe this being a demo, it was primarily released to give fans and interested parties a taste of what has changed in a more broad sense. After all, Origins had no demo, and instead had a character creator. Even the story spoilers we've received? Anyone who's watched the BioWare forums for a length of time will not be surprised--these are bits that have been consciously revealed, parts that have been shown in other places. They were very careful in what story bits they revealed, so anyone who was a fan of the story in Origins over anything else? This is not the demo for them.
Others Tagged With