Arnold Schwarzenegger to Become The Governator in Stan Lee Series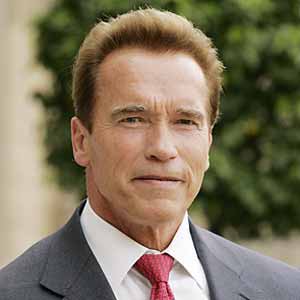 Spider-Man comic creator Stan Lee has developed a new idea for an animated series, The Governator, featuring none other than former California governor Arnold Schwarzenegger.
Lee spoke with Entertainment Weekly about the TV series/comic book that is expected to be released in 2012 and previewed some of the artwork from the series.
"We're using all the personal elements of Arnold's life. We're using his wife [Maria Shriver]. We're using his kids," said Lee of the semi-fictional character. "We're using the fact that he used to be governor. Only after he leaves the governor's office, Arnold decides to become a crime fighter and builds a secret high-tech crime-fighting center under his house in Brentwood."
The Governator will fulfill all crime-fighter requirements with a secret headquarters, performance-enhancing "Super Suits," a tech genius side-kick and his very own nemesis. The villain will actually be a group of evil-doers, the Gangsters Imposters Racketeers Liars & Irredeemable Ex-Cons, better known as the G.I.R.L.I.E. Men.
Classic.
Got news tips for Paste? Email news@pastemagazine.com.
Others Tagged With