Best Of What's Next: Secret Cities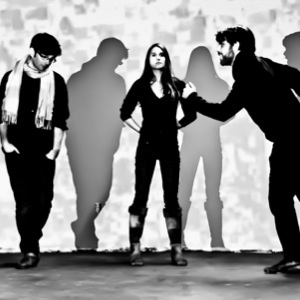 Hometown: Fargo, North Dakota
Album: Strange Hearts
For fans of: Brian Wilson, The Antlers, Grizzly Bear

Members: Charlie Gokey (guitar/vocals/etc.), Marie Parker (keys/vocals/etc.), Alex Abnos (percussion)
North Dakota's Secret Cities will combat their home's blustery weather this month with a sophomore record as warm as it is wry. Born of a chance band camp meeting, the two bewitching lead vocalists and drummer have already morphed many times in their young careers.
"We're a bunch of dorks that found each other in very dorky ways and started making music in very dorky ways," jokes singer/multi-instrumentalist Charlie Gokey, who started the band with singer/keyboardist Marie Parker when they were just 15. "Now we're not dorky anymore. We can pretend easier now."
The then-duo found drummer Alex Abnos on the Internet (also a dorky route, Gokey asserts), and after a couple of name changes (The White Foliage, Parker and Gokey) and releases on Baltimore's Fall Records, they became Secret Cities and signed to Western Vinyl, home of Here We Go Magic, Callers, Dirty Projectors and Balmorhea.
The trio's March 29 release, Strange Hearts, follows up Pink Graffiti, its Brian Wilson- and youth-inspired, split-personality-wielding WV debut. Pieced together over the course of several years, Pink Graffiti stretched in multiple compositional directions with equal vehemence and capability even while it attempted concept album conent. "We talked things out and it ended up being this sort of amalgamation of three records," Gokey explains.
From blurry, counterpoint-laden orchestral intricacies to Parker's lush vocal harmonies to suspenseful harpsichord and bass drum plodding, Pink Graffiti was a journey through conflicted emotion that seemed to circle on itself and resolve at the end. Parker's classical training enabled her to orchestrate string arrangements for the album, and Gokey's myriad pop influences provided a whole canon of melodic precedent to draw from.
Strange Hearts is the opposite of all that. Recorded quickly in a recently-abandoned bank (with the difficulty they'd encountered reproducing Pink Graffiti's decidedly studio-centric songs live in mind), Gokey, Parker and Abnos picked a direction and went with it. The results prove lovely and streamlined, an expression of complex pop clarity rather than a rewarding sludge to mire oneself in. "This one, I think, is a lot more based in reality," Gokey says. "We had less time to experiment."
This was especially important to Abnos, whose zealous, complicated drumming becomes a third focal point on both recordings. To enhance the cacophony, the group even brings a second drummer on tour. "That was mainly just a function of trying to do the parts that were on Pink Graffiti, because a lot of those parts I multi-tracked myself," he explains. "There were all these polyrhythmic parts on those songs that I couldn't properly perform on my own."
Though the percussion on Strange Hearts is a bit less over-the-top, it's still much more mallet-driven than stick-driven, lending the songs gravity. "I think Charlie and Marie's compositions are unique and deserve something besides just straight-up drums," Abnos says.
Likewise, whereas much of Pink Graffiti's lyrics centered around a few central ideas because the whole thing got rewritten several times, Strange Hearts is more guileless, thematically. "It's a little bit more song-by-song," Gokey says, "but I guess there were a few intents on this one to sort of pay homage lyrically to people like Skeeter Davis and The Shangri-Las—people who tell ridiculous melodramatic stories."
The AM radio wooziness of a select few of the debut's songs gets amplified for Strange Hearts, even more so on the songs Parker voices. "Pink Graffiti reflected our changing interests," Gokey says. "We're all kind of flighty, I guess. We all find things and get really into them. Pink Graffiti sort of tracked a period where I was discovering electronic music, and by the time we got around to this one I was listening to a lot of people like Dusty Springfield."
Stylistic choices for Secret Cities, then, are just a matter of time and place. What's next remains to be seen. "It's just a product of our own fickleness," Gokey concludes, "and this one just happened fast enough to sort of capture that."
Others Tagged With