Producers of Next Blade Runner Reveal More Details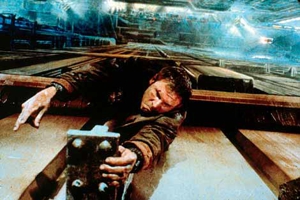 Just last week, news came that another version of 1982 sci-fi flick Blade Runner, a Ridley Scott-directed adaptation of the short story Do Androids Dream of Electric Sheep? by Philip K. Dick, was nearly guaranteed. And since then, the film's producers have continued revealing details.
Producers Andrew Kosove, Broderick Johnson and Bud Yorkin already confirmed the next addition to the series won't be a remake of the original, but instead an expansion of the universe, reports CinemaBlend.
A few days ago, io9 learned it will be a prequel or sequel, and they recently caught up with the producers to uncover more details regarding the next Blade Runner.
When asked whether the movie will indeed be a sequel or prequel, Kosove answers, "We don't know, we just don't know yet."
He also addresses possibilities for interesting stories the original may have overlooked or neglected.
[Technology] is changing at such a rapid pace. Because of that, and because of the fact that Philip K. Dick is quite brilliant at imagining a world that maybe doesn't exist but is very quickly getting here. There are opportunities to think about either what our world will be like in our almost immediate near future. Or to think about what the world is after Blade Runner, because we have things that have come into our being, things that are a part of our consciousness now that we couldn't have imaged many years ago.
Kosove also points out that the "very-near" future could be exponentially different than the present due to the aforementioned expeditious rate of technological development, "Just like the world we're living in today is profoundly different from the world eight years ago," he says.
With regard to Replicants, which are genetically engineered, organic robots whose appearances are virtually identical to humans, Yorkin says they're "certainly" going to be involved. But their specific role hasn't been established because "Replicants can be any number of ways, and involved in way humans work in live."
The producers will not say whether they've conferred with Ridley Scott, but they did say they've received his blessing.
Addressing wish-list directors and actors, Kosove says Christopher Nolan, "who we did Insomnia [with] would be in the pie in the sky for us."
But probably the most pleasing quotes come from Kosove when io9 mentioned fans' split reactions to the film's announcement:
I can tell you for certain…we will not go about this process in some form of large group think where 15 executives are going to sit around a table micromanaging the creative talent. Broderick and I will meet with writers and directors and we will figure out what direction we want to go and what story we believe in.
And then they will have the artistic autonomy to go out and make a great movie.
Got news tips for Paste? Email news@pastemagazine.com.
Others Tagged With