Bulletstorm Review
(Multi-Platform)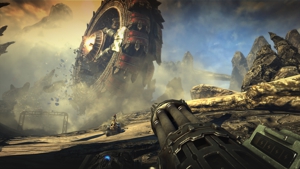 The following individuals will probably not enjoy playing Bulletstorm: Fox news pundits, elderly Wii bowling enthusiasts and anyone who finds the idea of shooting an axe-wielding mutant in the genitals unseemly. That being said, gamers who don't fall into the aforementioned categories will likely find their trigger fingers thoroughly scratched, if not entirely shredded apart, by a game that is as addictively entertaining, violent and crude as it is brainless.
Bullestorm, as it's rather on-the-nose-title implies, is a first-person shooter that involves bullets. Lots of bullets. In fact, a veritable storm of bullets, if you will, raining down from the heavens like a Charlton Heston NRA Second Amendment fever dream. Of course, there are plenty of other shooters out there in which players are free to bust some proverbial caps into the asses of their enemies. Bulletstorm, however, stands apart from the throngs of first-person shooters as a game that doesn't just encourage players to pull the trigger, but rather rewards them for finding new and sadistically creative ways to eviscerate, maim, impale, burn and annihilate their foes. And damned if it isn't fun.
The game takes place in the distant 26th century, an era where both ridiculously massive assault rifles and brawny wise-cracking commandos are plentiful. The story follows the exploits of a former Special Forces assassin turned space pirate named Grayson Hunt. Grayson, after being betrayed by his former commanding officer, the evil General Sarrano (insert military stereotype and diabolical laughter here) finds himself and his cyborg squad mate Ishi crash-landed on the planet Stygia. Which is a former resort world turned dystopian hellscape. Soon Hunt and Ishi pick up the scent of Sarrano's trail and, in their quest for revenge, must battle both bloodthirsty Stygian natives, monstrous alien life forms and elite commandos. The story is ripe with the reeky bouquet you'd find wafting up from the curd-ridden depths of a French fromagerie, with profanity-laden one-liners and jokes that aren't so much tongue-in cheek as they are tongue-in-toilet-bowl. Unfortunately, the story takes itself just seriously enough to be annoying rather than working with the campiness of Duke Nuke 'Em, and the ending fizzles out like an unexploded plasma grenade. Fortunately, there are just enough hilariously crass jokes and bits of self-aware mockery to keep things interesting.
Of course, no one is playing Bulletstorm for its compelling dramatic exploration of the human condition. They're playing it because it's a game in which they can use an energy lasso to grapple an enemy by the face, blow his head off with a giant shotgun and then kick his corpse onto a wall of spikes. If that sounds even remotely appealing, Bulletstorm won't disappoint. Ostensibly, the game is developed by Polish game studio People Can Fly, but it's not hard to see the fingerprints of Clifford "Don't Call Me Cliffy B" Bleszinski, the brains behind Epic Studios' popular Gears of War series and a ubiquitous gamer spokesdouche seemingly held together by Ed Hardy t-shirts, Monster Energy Drink, and hair gel excreted from Tony Hawk's sweat glands (but whose outsized persona doesn't quite mask a remarkably keen mind and a strong knack for gameplay design.) Bulletstorm might not be the sole creative property of Bleszinski, but it wears its Gears of Wear influences on its armor-platted sleeve, from its steroid freak-show characters to its crumbling dystopian environments. In fact, in many ways Bullestorm is more of the spiritual successor, if not the bastardized offspring, of Gears of War, and as a result it's hard not to make comparisons.
Of course, that's not necessarily a bad thing. Like Gears of War, Bulletstorm makes use of the Unreal Engine and the results are some of the more jaw dropping environments recently seen. Whether it be the vertiginous skyline of a futuristic city or a jungle cavern inhabited by a skyscraper-sized prehistoric monster, Bulletstorm's visuals are pure digital works of art brought to life. The level of violence is also a nod to Gears of War and while you want find yourself using a chainsaw bayonet to hack anyone in half, the head shots, gore and sociopathic dialogue will seem all too familiar to fans of Epic's popular series.
Bulletstorm, however, manages to distinguish itself from Gears of War in terms of its overall gameplay. While Gears favored a more tactical approach to third-person shooters with its run, gun and duck for cover style of play, Bulletstorm is a first-person experience that's more about frenetic, balls-to-the-walls action. It's not so much about strategy or taking cover as it is running into an area with guns blazing, blasting apart everything in sight. Combat, however, avoids repetition thanks to one of the game's most intriguing weapons: the leash, an energy device which can be used to grapple onto enemies and objects. There are a number of additional weapons to choose from, with everything from an assault rifle to a flail gun that hurls two chained grenades together. Combat soon becomes a matter of using some combination of weapons, explosives, the leash, environmental objects or simply your trusty size ten-combat boot, to annihilate enemies.
Despite the weapons and the various permutations for carnage, Bulletstorm might have quickly devolved into monotony if not for the inclusion of its "skillshot" system, which rewards players for finding the most gruesome ways to send enemies into that big cannon fodder corpse pit in the sky. For example, simply shooting an enemy will likely earn a paltry 10 skillshot points, while leashing an opponent, shooting him in the ass and then booting him into an electric fence will earn a healthy 100 points. It might seem like a shallow attempt to squeeze a little extra juice out of a game, but it works beautifully, not only in terms of catering to gamers' achievement-whore impulses, but also due to the fact that points earned from skillshots are used to buy ammunition or various upgrades to weapons. Skillshot points really are essential for progression in the game, but I often found myself trying to pull off new combos just for the sheer sick, giddy thrill of unlocking new and satisfyingly gruesome ways to dispatch my enemies (how can you not kinda love a game where the act of tangling two enemies together with a chain of grenades and blowing them both into meat chunks is given the fitting name "Homie Missile"?).
Of course, while the single-player campaign is a violent, crass and relatively satisfying experience, there's also the inclusion of "Echo Mode," which allows players to time- and score-attack specific levels for leaderboard bragging rights, which if you're a fan of that kind of thing, will probably mean squeezing a little bit of extra mileage out of the game. Unfortunately, the campaign doesn't feature a co-op mode, which seems like a missed opportunity given the fact that Hunt is accompanied throughout the story by his tortured sidekick Ishi. The game almost makes up for this oversight with the inclusion of Anarchy mode, a competitive and cooperative experience that borrows from Gears of War's Horde Mode by pitting teams of four players against one another to score the most points against waves of increasingly difficult enemies. It's a fun and frenetically paced inclusion that challenges players to put both their sadism and their skills to the test.
Bulletstorm is a game that manages to walk a fine, blood-splattered line between brainlessly crude entertainment and first person innovation. Its skillshot system adds a surprising amount of depth to a game that might otherwise have been yet another forgettable first person shooter, while the top-notch visuals and humorous sci-fi toilet humor manage to keep it from becoming stale. Grayson Hunt may not be one of gaming's most endearing characters, but like Bulletstorm itself, the trigger happy drunk who gives the term "locked and loaded" an entirely new meaning.
---
Bulletstorm was developed by People Can Fly and published by Epic/EA. It is available on the PC, Xbox 360 and PS3.
Adam Volk is a screenwriter and freelance journalist, with work appearing in The National Post, Gamasutra and The New York Review of Science Fiction. For more of his inane blatherings please visit www.zombie-geek.com
Watch the trailer for Bulletstorm:
Others Tagged With