Edwyn Collins: Losing Sleep
[Heavenly/Downtown]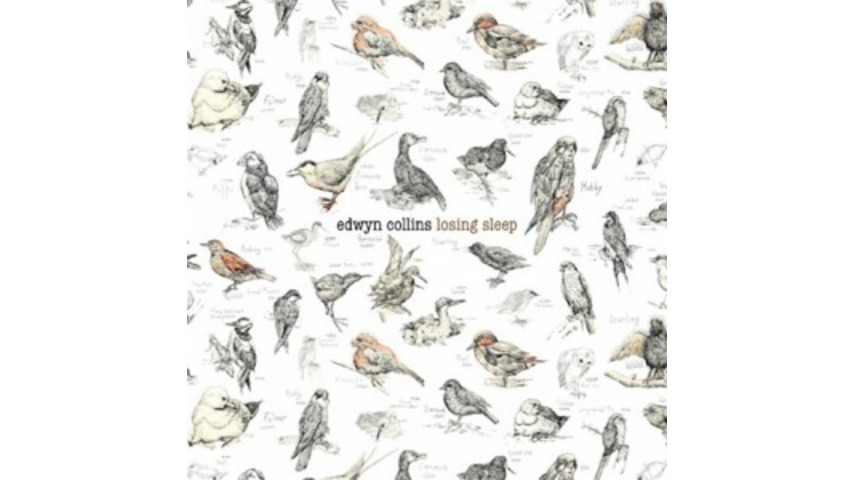 An uplifting record without the Lifetime movie schmaltz
With the release of Losing Sleep, Edwyn Collins has entered inspirational biopic territory.
A pair of cerebral hemorrhages in 2005 nearly killed him, and put anything as superfluous as a music career on hold. But by 2007, he was back on stage. The next year, he began the process of recording of this album.
After all that, no one could have blamed Collins for releasing a middle-aged mortality record. And scanning the song titles, armchair psychoanalysts will have plenty to work with: "Over The Hill," "What Is My Role?" and of course the title track. But listening to the songs themselves, Collins brings a punchiness and cagey determination that push against the introspection of his lyrics.
Assisting him with singing and songwriting duties is an intriguing squad of guest musicians. There's Collins contemporaries like Johnny Marr and Roddy Frame, but also young bucks who owe a debt to Collins' old outfit, Orange Juice: Alex Kapranos and Nick McCarthy of Franz Ferdinand, The Drums and Ryan Jarman of The Cribs.
But lest this all come across as "An All-Star Tribute to Edwyn Collins (featuring Edwyn Collins)," there's no mistaking whose album this is. Collins puts on a master class in pop songwriting with the title track, whose Northern soul bounce almost distracts from its confessions of insecurity.
It's tempting to dissect the lyrics sheet line by line and try to create some composite portrait of Collins's mental state. No question — he wears his heart on his sleeve here. But the wonder about Losing Sleep, what makes it worthy of multiple listens, is the fact that Collins dodges any one-dimensional sentiment. Even within individual songs, there's a genuine sense of struggle with a gamut of emotions: hopes, fears, joys and frustrations.
So even on a song like "Bored," with its blunt title and death-haunted lyrics, Collins makes a powerful turn at the end. With his band slugging out the notes beneath him, Collins throws himself into an angry mantra: "I'm halfway down to where I'm going." If it weren't clear enough elsewhere on the album, it's written in boldface here: Edwyn Collins will not go down quietly.
Others Tagged With