Eminem Wins Royalty War, Other Artists Stand To Benefit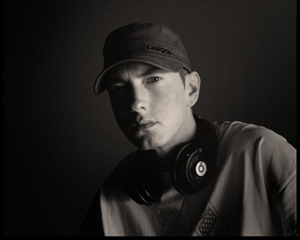 A long-standing lawsuit battle between Eminem and Universal Music Group has finally been resolved, with courts granting the rapper 50 percent of the royalties for digital sales.
The producers who discovered Eminem launched the lawsuit against Universal to clearly define the way digital sales should be handled for royalty payouts. When a song is sold as a "sale," Eminem only receives 12 percent, but when the song is sold as a "license," Eminem receives 50 percent.
This decision may affect many more artists than just Eminem. Musicians with contracts that were created before the years of online purchases may now be eligible to receive an increase in earnings per digital sale.
"This is life-changing," said Joyce Moore, the wife of Sam Moore of Sam & Dave, the duo that had hits in the 1960s like "Soul Man." "If we were being paid a nickel a download, as opposed to 35 cents — that's a huge amount of money for a guy that is on a fixed income or has to run up and down the road at 75 years old."
Current hits may receive more attention, but according to Nielsen SoundScan, older releases still account for a large portion of overall sales. In the last year, there were 648.5 million downloads of "catalog" singles (songs more than 18 months old) compared with 523 million for current tracks.
Universal received a favorable verdict from a federal jury in 2009, but last year that decision was overturned. The Supreme Court has refused to hear the case, letting the decision stand. The decision is unlikely to affect recent artists, as most contracts were revised in the 2000s to accommodate digital sales.
Got news tips for Paste? Email news@pastemagazine.com.
Others Tagged With