Eric Clapton Auctioned Equipment; Scientists Find Owning It Contagious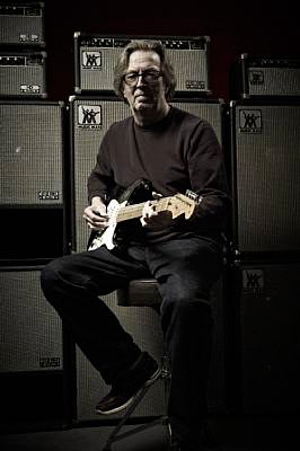 The New York Times reports that on March 9 at Bonhams in New York, Eric Clapton auctioned more than 150 pieces of equipment from his personal collection, including amps and custom-made guitars, to benefit The Crossroads Centre, Antigua, a charity Clapton founded to facilitate drug and alcohol rehabilitation.
The auction featured "over 70 guitars and 70 amps which have helped create Clapton's legendary sound," according to a Bonhams press release.
Cost estimates on the equipment ranged from $300-$300,000. Everything from a pale-blue 2008 Fender Stratocaster Eric Clapton, Signature Model to a 1957 Fender Twin Amp was available.
Particularly noteworthy was one of the main stage guitars from the 2005 Cream reunion shows in London and New York.
Clapton wasn't the only musician associated with the auction, however; Jeff Beck, J.J. Cale and Joe Bonamessa were also involved.
According to The Telegraph, the auction made £1.3 million ($1,808,014).
In related news, social scientists at Yale conducted a study to discover why people are willing to pay so much for used celebrity merchandise like Clapton's guitars, one of which sold for $959,500 in 2004.
One conclusion: the desire to own said merchandise "stems from an instinct crucial to surviving disasters like the Black Death: the belief that certain properties are contagious, either in a good or a bad way."
Another conclusion resides in "magical thinking chronicled in 'primitive' tribes."
The piece mentions that while some buyers may rationalize their purchases by associating them with positive memories and/or people they admire, that isn't the primary motivation behind acquiring the objects.
Instead, the most significant reason is the power of "celebrity contagion." For example, researchers discovered that a sweater owned by a celebrity holds greater appeal to fans if it's never been cleaned, which removes the celebrity's "essence" from the item.
Paul Bloom, who conducted the experiments at Yale with George E. Newman and Gil Diesendruck, says, "Our results suggest that physical contact with a celebrity boosts the value of an object, so people will pay extra for a guitar that Eric Clapton played, or even held in his hands."
Physical contact can explain Clapton's "Blackie" (the name for one of his favorite guitars) selling for nearly $1 million, but another form of thinking called "the law of similarity" is responsible for people paying so much for a replica of Clapton's guitars.
The law is based in a belief also referred to as "imitative magic: things that resemble each other have similar powers." That belief clarifies why a replica guitar detailed with all of the original's nicks, dust and scratches still fetches a relatively steep price.
Robert Ender, a guitar player from New Jersey and probable bidder on Clapton merchandise, explains the equipment's appeal: "Any connection with Eric adds some kind of musical mojo."
Got news tips for Paste? Email news@pastemagazine.com.
Others Tagged With