Hunx & His Punx: Too Young to be in Love
[Hardly Art]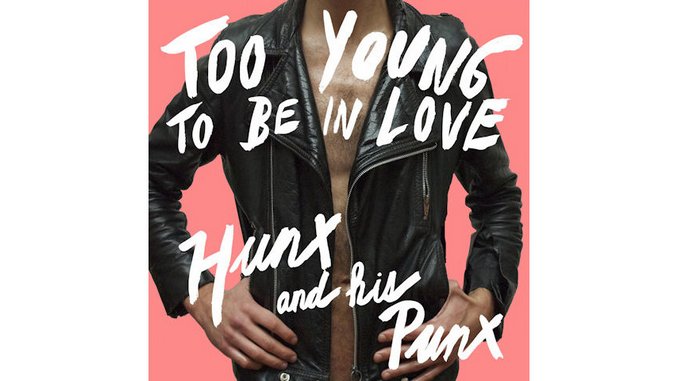 The appeal of Hunx & His Punx, at least previous to this album, both live and on record, was that the band didn't take itself too seriously. Led by Seth Bogart (AKA: Hunx), flamboyant homosexual and quintessential showman, the Bay Area garage outfit began cranking out infectious and often-stellar singles — try "You Don't Like Rock 'n' Roll" or "Hey Rocky" — in 2008, aided by the songwriting of like-minded rocker Justin Champlin (AKA: Nobunny). Those songs were collected on the excellent Gay Singles comp, released last year on True Panther Sounds.
Perhaps it's the absence of Champlin on Too Young to be in Love or, most notably, the overall shift in tone (think girl groups instead of The Ramones), but Hunx & His Punx have lost something in the transition. While songs like "Lovers Lane" and "Too Young to be in Love" contain the earwormy element of Hunx's best material to date, most of Too Young is too sluggish, relying heavily on Bogart's "punkettes" (led by Shannon Shaw of fellow Oaklanders Shannon and the Clams) and eschewing the off-the-rails charm that makes a Hunx song so fun to bop along to.
Despite the occasional innuendo ("Blow Me Away," which Bogart says is about his father's suicide, nevertheless contains an implied sexuality), Too Young is somber-faced across the board, completely lacking the free-spirited nature that ran through the songs on Gay Singles and Bogart's unpredictable live presence. (Pro-tip: Stay out of the front row if you don't want him to touch you.) These songs are, by and large, well-made, but they don't hold up to the expectations set by previous Hunx material. More than that, it sounds like Bogart is working out some heavy things on Too Young to Be in Love; it's just a bummer that the discomfort is put upon the listener as well.
Others Tagged With