Folk Musician Jack Hardy: 1947-2011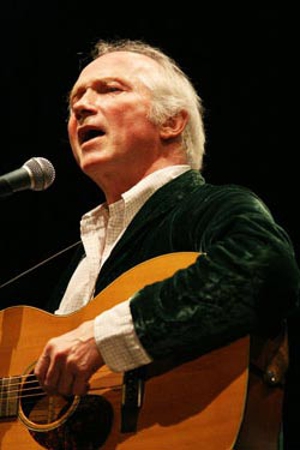 The New York Times reports that legendary folk artist and promoter Jack Hardy died on Friday at age 63 from lung cancer complications, according to his son, Malcolm.
On Nov. 23, 1947, John Studebaker Hardy was born in South Bend, Ind. "His mother, Lillian, is a painter; his father, Gordon, is a musician and the past dean of students at the Juilliard School and a past president of the Aspen Music Festival," writes the Times.
Jack grew up in New York City, Aspen and Durham, Conn. While attending the University of Hartford, he edited the school's newspaper. In fact, he was convincted in 1969 of libeling President Nixon by running a vulgar cartoon depiction of the President. Both the conviction and $50 fine were later overturned on appeal. Jack moved to the Village in 1973.
Hardy wrote "hundreds of songs," with themes ranging from protests to politics to romance.
When he wasn't recording or writing, Hardy helped other musicians. He hosted Monday-night workshops at his railroad flat on West Houston Street. Among the stipulations for those involved: any submitted piece must be less than a week old, which Hardy believed forced writers to write. Lyle Lovett, Shawn Colvin and Suzanne Vega had all attended the workshop.
In addition to writing, Hardy aided numerous other musicians through his Fast Folk Musical Magazine. The organization made over 1,000 low-budget recordings featuring local performers, and then distributed those recordings to subscribers and radio stations along with a a newsletter.
Iconic artists associated with Fast Folk include the aforementioned Lovett, Vega, Colvin, and Tracy Chapman, according to the Smithsonian Institute. The institute also holds tapes of the original recordings and magazine archives. Their nonprofit record label, Smithsonian Folkways, currently offers a two-CD set.
Hardy was married and divorced twice. He's survived by his parents, who live in Manhattan; his son, Malcolm, of St. Louis, Mo.; a brother, Christopher, who lives in Coeur d'Alene, Ida.; a sister, Susan Suechting, of Elk Mound, Wis.; three daughters: Morgan, of Manhattan, Miranda, of Syracuse, N.Y.; and Eva Peck of South Lake Tahoe, Nev.; and two grandchildren.
Referencing the music Jack Hardy recorded in the 1980s and '90s, he said, "The whole idea was to do it fast…You could hear a song at an open [mic] or songwriters' meeting and two weeks later it was being played on the radio in Philadelphia or Chicago. It was urgent, exciting. It was in your face."
Got news tips for Paste? Email news@pastemagazine.com.
Others Tagged With