My Morning Jacket Finishes New Album, Circuital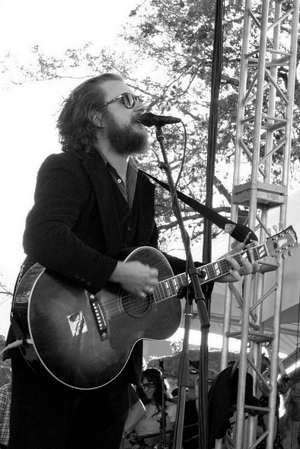 After the all-embracing nature of the content on 2008's Evil Urges, My Morning Jacket decided to pursue a more stylistically consistent album for the follow-up. For the forthcoming album, Circuital, the band returned home to Louisville, Ky. to record in a more informal setting after the pricey studio experience for the last album, this time converting a church gym into their makeshift recording space.
"This is the most live record we've ever done," frontman Jim James told Rolling Stone. The basic tracks for the album were recorded live to 24-track tape with the band and gear arranged in a circle, serving as one of the inspirations for the album title.
Guitarist Carl Broemel made a point to create his solos out of improvisation, rather than composing them prior to recording, in order to keep with a "beginner's mind" feel that band intended to capture for the new LP. "This record feels like a couple of steps forward of what we'd been doing in terms of overall sound," Broemel told RS.
An official release date for Circuital has not been announced, but the album is set to drop sometime in the spring. A tracklist has yet to be released as well, but Rolling Stone mentioned several songs that are likely to be included. Check out the list below and watch the video for title the track.
Circuital Session Tracks
"Circuital"
"Holdin' on to Black Metal"
"Victory Dance"
"Wonderful"
"Out of My System"
"Circuital"

Got news tips for Paste? Email news@pastemagazine.com.
Others Tagged With