Party in Austin With Paste - March 16, 2011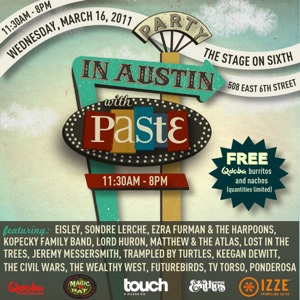 For the eighth year in a row, Paste will host day parties in Austin, Texas, during SXSW, bringing some of our favorite new artists (and a few veterans) to the stage during the music industry's biggest showcase. Here's a little bit about the artists selected to play our Wednesday event (Thursday line-up coming tomorrow).
And if you're going to be anywhere near the state of Texas, RSVP here.
Indoor
Ponderosa | 12 pm
"The Black Crowes served as standard bearers of the good-old-boy amalgam of Americana and Southern rock for 20 years. But fellow Atlanta revivalist rockers Ponderosa seem ready to inherit the soon-to-be-vacated throne." – Read the full Best of What's Next story.
Futurebirds | 1 pm
Like Ponderosa, we recently named Futurebirds one of "30 Great Athens Bands".:http://www.pastemagazine.com/blogs/lists/2011/02/30-great-athens-rock-acts.html?p=3
The Civil Wars | 2 pm
"Their name may indicate otherwise, but internal discord has never been a problem for The Civil Wars. When they're not cracking jokes or singing each other's praises, Joy Williams and John Paul White are crafting striking harmonies that even Abe Lincoln and Jefferson Davis would have to agree upon." Read the Best of What's Next story.
Trampled By Turtles | 3 pm
After its fifth album Palomino debuted atop the Billboard Bluegrass chart, the five-piece band played a quick set at Paste, including the feverishly fast "Feet and Bones," and a cover of Neil Young's "Pocahontas. Listen here.
Lost In the Trees | 4 pm
"As a budding high-school musician, Ari Picker didn't know how to read or write music until he'd already started jamming with a bunch of string players, and he'd never listened to classical music before enrolling at Berklee to study film scoring. He took to it fast, though, assembling Lost in the Trees, a band that fused his newfound love of classical music with the uninhibited honesty of beloved folkies like Joni Mitchell." Read our Best of What's Next feature.
Lord Huron | 5 pm
"Ben Schneider, a.k.a. Lord Huron, grew up in Michigan plagued by wanderlust. Once he graduated from art school at the University of Michigan, that desire to see the world not only took him to places like New York, Southern France and Bali, Indonesia—where he was fascinated by gamalan orchestras—it also shows up all over his own poly-rhythmic Laurel Canyon-by-way-of-both-Bali-and-Mali music." Read our Best of What's Next feature.
Ezra Furman & The Harpoons | 6 pm
"On his second album of jittery, willfully naive folk-punk, Furman played the alienated romantic geek, employing a wobbly sense of pitch to better effect than anyone since the early Violent Femmes." Read our latest Q&A with Furman.
Eisley | 6:30 pm
The Texan rockers of Eisley just returned with their third full-length album. As the group tackled treacherous winter roads to promote The Valley, member Stacy DuPree took a few moments to catch up with Paste about the road, family and their latest album.
Outdoor
TV Torso | 12:30 pm
Local Austin band TV Torso was just featured on Austin Music Volume 10.
The Wealthy West (Brandon Kinder) | 1:30 pm
Kinder's band The Rocketboys put out one of the eight criminally underrated albums of 2009, "creating rich anthems that are as infectious as they are sincere."
Keegan DeWitt (trio) | 2:30 pm
"DeWitt studied film in college, but perhaps he should have been an English major. Though he first made his name by composing movie scores, and then as a member of rootsy rock-group Roman Candle, his first two solo albums are rife with literary references and inspiration. His most recent EP, Nothing Shows, released last July, was influenced by the poetry of Philip Larkin and boasts folksy, upbeat tracks with a cinematic edge." Read our Best of What's Next feature.
Jeremy Messersmith | 3:30 pm
"Jeremy Messermith's early career allies include Semisonic's Dan Wilson, who produced his second album, The Silver City. But the Minneapolis singer/songwriter gives off a vibe that is less '90s alt-radio and more '60s pop; on his third album, The Reluctant Graveyard, Messersmith showed his love for Beach Boys harmonies and elegant folk narratives in the Paul Simon/Joan Baez vein." Watch his video for "Tatooine," one the Best Videos of 2010.
Matthew & The Atlas | 4:30 pm
Mining the same Brit folk as their friends in Mumford & Sons, Matthew & The Atlas hail from Aldershot, U.K. Lead singer Matt Hagerty's voice "boasts the kind of craggy larynx that lesser vocalists spend years trying to cultivate with diets of cigarettes and alcohol," says The Independent.
Kopecky Family Band | 5:30 pm
What's a good road trip without gorilla suits, pirate hats and a few detours? The members of the Kopecky Family Band chronicled its trip to CMJ with a videocamera for Paste.
Sondre Lerche | 6:30 pm
The noted Norwegian tunesmith wrote his first song at 14, signing with Virgin Records three years later. Before he finished high school, Lerche's star was rising in his native country, where he'd played a slew of shows, issued a pair of well-received EPs and even wrote and recorded his first full-length album, Faces Down (released stateside on Astralwerks). Read our Best of What's Next feature on Lerche from back in 2004.