Party in Austin With Paste - March 17, 2011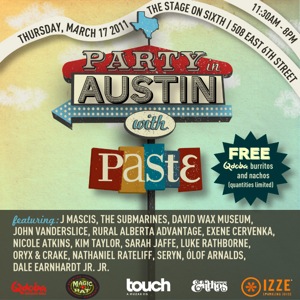 For the eighth year in a row, Paste will host day parties in Austin, Texas, during SXSW, bringing some of our favorite new artists (and a few veterans) to the stage during the music industry's biggest showcase. Here's a little bit about the artists selected to play our Thursday event. (Check out Wednesday's lineup here).
And if you're going to be anywhere near the state of Texas, RSVP here.
Indoor
Dale Earnhardt Jr Jr | 12 pm
At last year's CMJ, the "young band out of Detroit, Mich. wore their hometown pride on their racing jumpsuit sleeves, rocking version of Gil Scott-Heron's 'We Almost Lost Detroit.' Strong harmonies and solid song construction are apparent on the EP, but the live treatment benefits from greater density of atmospheric beats and loops that give the band an extra raw edge." Read our CMJ report.
Seryn | 1pm
I fell in love with the song "We Will All Be Changed" on first listen, and you can download here. It features ukulele, banjo, accordion, violin, cello, trumpet and joyful, soaring choruses.
Oryx & Crake | 2 pm
"Atlanta's musical identity is spread across many disciplines; it's a hip-hop capital, a bastion for garage/punk/art rock, a singer-songwriter's haven. Despite the lack of a distinct orchestral-pop scene in this city, Oryx and Crake offers a glimmer of hope for that type of music. Since the band's eponymous debut dropped last August, O&C has quickly amassed an army of local music fans throughout Atlanta in support of its sound." Read the Best of What's Next story.
Sarah Jaffe | 3 pm
"Jaffe is a lot like her home state of Texas: Wide-open, humble and matter-of-fact, she crafts beautiful, raw songs that "are what they are" in the very best way. Playing like wise, witty diary entries marked with teardrops, growing pains and effusive honesty, her debut album Suburban Nature ebbs and flows on a sea of candid relationship narratives." Read our Best of What's Next feature.
Nicole Atkins | 4 pm
Some break-up records are about a boy. And some are about a girl. But Nicole Atkins' new album Mondo Amore is about a boy, a band and a record label. Three years after her Columbia Records debut, she's rediscovering the joy of independence, recording her new album with the help of fan donations and touring with a soul sister on guitar. Read our Catching Up With interview.
Rural Alberta Advantage | 5 pm
"Toronto residents now more than half a decade removed from their western Canadian roots, RAA whip up a raw, insistent, and stripped-down folk music that is enormously appealing on the surface. The songwriting is another matter; Departing relies too frequently on stock winter imagery and generic love laments. It's too bad because the songs, particularly those on the uniformly strong second half of the album, are big, blustery anthems that The Arcade Fire would be proud to write." Read our review.
David Wax Museum | 6 pm
A Missouri native, David Wax's love affair with Mexican music took root during the summers he spent South of the Border working with the American Friends Service Committee during college. After graduating from Harvard, he returned to rural Mexico in a year-long fellowship where he began mixing the folk of his Midwest upbringing with traditional Mexican music. Along with fiddler Suz Slezak, Wax has toured as David Wax Museum with The Avett Brothers and the Old 97's and was the breakout act at The Newport Folk Fest last year. Download a free mp3 from the album or read our Best of What's Next feature.
J Mascis | 6:30 pm
J Mascis has long been known for his incredible guitar dexterity and experimentation with influential noise rockers Dinosaur Jr. Recently, Mascis has gone a different route, announcing his first ever solo acoustic album, Several Shades Of Why, which comes out on March 15 on Sub Pop.
Outdoor Stage
Ólöf Arnalds | 12:30 pm
"Arnalds' reputation for being old-fashioned extends to her music. Her songs invite deep breaths and introspection. She plays a host of stringed instruments including guitar and violin, and her favorite is the 10-stringed charango, which hails from South America and belongs to the lute family. She fingerpicks it with rhythmic harp-like plucks, topping off the plinking cascade with a voice like an intimate lullaby. The cyclical, charango-picked melody of "Surrender"—a haunting duet with longtime friend Björk, featured on Arnalds' latest album, Innundir Skinni—weaves a trance-inducing loop, highlighting the interplay of two of Iceland's most unforgettable voices." Read our feature on Ólöf Arnalds.
Nathaniel Rateliff | 1:30 pm
Nathaniel Rateliff's newest LP In Memory of Loss (out now) rings with the ease, tenderness and lightness of heart that often mark a new romance. And rightly so: Much of the album was written to woo a woman. Ambling guitar riffs and light touches of piano sound like aimless strolls through town; Rateliff's rich voice and his bandmates' textured harmonies sound like long and comfortable conversations, and the songwriter's occasional raw vocal rattle sounds like those sweet moments of when new lovers are bold to share hard truths—family secrets, old friends, regrets—and ask big questions. Read the Best of What's Next feature.
Luke Rathborne | 2:30 pm
Paste multimedia editor Kevin Keller says, "I was already excited to have Luke Rathborne play our SXSW party, but this video makes me hope that maybe we'll become best friends."
Kim Taylor | 3:30 pm
"Kim Taylor's connections to fellow Ohioans Over the Rhine are hard to ignore: The singer/songwriter has performed with the band on tour and her sultry voice is a dead-ringer for OTR's Karin Bergquist. But Taylor has perfected a style uniquely her own." Read our Best of What's Next feature.
Exene Cervenka | 4:30 pm
When Exene Cervenka, frontwoman of legendary punk quartet X, announced her recent diagnosis of multiple sclerosis, she said, "Many people remain strong and continue to live their lives as productively as they had before an MS diagnosis and I plan to be one of those people." She's lived up to those words with her solo release The Excitement of Maybe.
John Vanderslice | 5:30 pm
"John Vanderslice has been making music since his teenage years, but it was the early '90s when one of his bands, MK Ultra, started gaining national attention. His new album, White Wilderness, Vanderslice's soft, high-pitched croon is surrounded by a 20-person orchestra, lending the music a transcendent quality that lifts it from the veteran songwriter's traditional bedroom-esque atmosphere to an entirely different setting." Read our interview with John Vanderslice.
The Submarines | 6:30 pm
"The Submarines have been places. John is actually from Dubai, while Blake is from Vermont. The two met in Boston, and began touring Europe together soon after. They traveled out West, and, after a breakup and reunion, settled in Los Angeles together." Read our interview with The Submarines.