Paste's 100 Bands At SXSW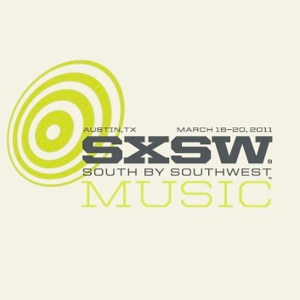 Page 1 of 4
Thousands upon thousands of fans, artists and professionals have already descended into Austin this week for SXSW 2011. During the festival, there's so much to do and seemingly so little time to do it. Decisions regarding which bands to see and what venues to check out are overwhelming to say the least.
This year, I'm going to keep things simple. For the six days of the festival, I will experience SXSW with the following mission in mind:
1) Review 100 bands via Twitter (@maxblau).
2) Photograph those same 100 bands.
My live-tweet reviews of these bands will provide snapshots of artists from all backgrounds—big names, unknown acts and everything in between—in fewer than 140 characters. While you can follow my SXSW journey live by following me on Twitter (@maxblau), I will also continually post copies of all my reviews along with photos in this article. So check back here early and often to live vicariously through my 'South By' explorations, as well as listen to steaming audio clips from each band I see.
#100) Zorch: Experimental electronic noise-rock duo plays 17th show in 7 days. It shows—loud, dissonant and hectic in all the right ways.
#99) Wanda Jackson: No Jack White sighting, but it doesn't matter. She's telling stories about kissing Elvis back in the day. Awesome.
#98) Baby Baby: Shirts off, party on. Art-dance-party rockers nail the 40 Watt showcase with freshest sense of humor and music.
#97) Little Tybee: Latin-infused orch-pop that pulls at the heartstrings.
#96) Quiet Company: Lighthearted indie-pop act storms out of the bedroom with vibrant dynamic swells and brass bombast.
#95) Gentleman Jesse & His Men: Masters of the power-pop domain. Few do the 70's garage rock/punk thing better than Jesse Smith.
#94) The Cringe: If TnT didn't wake you up, this will. NY-rockers are going at it right now.
#93) Tapes 'n Tapes: Minnesota foursome wakes up South By with an A.M. serving of rhythmic riffs and layered indie-rock that's pretty great.
#92) The Jim Jones Revue: This is how bar rock should be done—every little bit of energy gone after the final note.
#91) Generationals: Elephant 6-style pop that's glorious. They're one of the few current bands doing that aesthetic well.
#90) Wild Flag: Kindred spirits of Those Darlins, but with less antics and more grit. I like.
#89) L. Stadt: Polish vintage rockers mix in blues-rock with a hint of rockabilly. Jon Spencer meets Chuck Berry.
#88) Mack Messiah: Tucked away into the alcove of an Austin Pita Pit was Atlanta mega-fan Kenny Crucial's own little band.
#87) Charles Bradley: This is the closest I'll ever get to seeing Otis Redding. This is the best of the 87 shows I've seen so far.
#86) Sing The Body Electric: Beulah-esque pop with an edge and a lead singer who has a flair for the dramatic.
#85) Los Impostors: Mexican rock duo plays the instruments of four—set up looks like there's two missing. Instead, they create a dance party.
#84) American Music Club: Sadcore at its finest—his voice makes my eyes heavy in the best way. The Scott Walker of today.
#83) Matt & Kim: Dance-pop duo joined by Erykah Badu. Catchy pop at an all time high right now.
#82) Odd Future: What just happened? Water bottle fights, rappers aiming to kick cameras, fucking the police et al.
#81) Feeding Frenzy: Folky, harmony-laden Alaska five-piece performing on the corner of 4th and Trinity across from the ACC. Not bad.
#80) Turf War: Next generation Black Lips meets Free Energy. Watch out for these guys—they're for real.
#79) Mood Rings: Shimmering guitars drenched in reverb-heavy vocals. Like Christopher Owens if he teamed up with The Strange Boys.
#78) Kingsley: Hard mainstream alternative rock foursome. Not my cup of tea, but cool venue on a rooftop.
#77) Hank & Cupcakes: For only bass, drums and vocals, this Israeli duo has such a heavy-synth sound. Like a G6.
#76) Sharon Van Etten: Sounding as good as ever. She's amazing and stunning. I'm biased, I'll admit—I don't care. You're missing out.
Others Tagged With