Police Arrive at Death From Above 1979 SXSW Show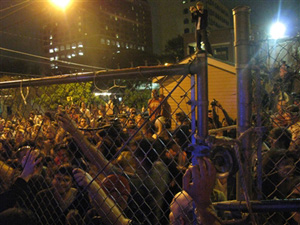 Death From Above 1979 recently announced their reunion, and their first act was a 1 a.m. performance at The Beauty Bar in Austin, Texas for SXSW. But the show didn't go very smoothly; police appeared after fans broke down the fenced barrier, according to CBC News.
CBC's Lana Gay writes that the makeshift venue was situated in The Beauty Bar's backyard. A fence surrounded the small area, which was covered by a white festival tent. To reach the show, fans had to maneuver through a back alley, which had a full capacity of 200 people.
The show started well, but things quickly became out of control. Bassist Jesse F. Keeler addressed the crowd by saying, "Hey guys, if you break down the fence, they're going to have to stop the show. Please don't break down the fence. It's not a sound barrier."
Gay writes:
One song later, the fence was down. Only a few people rushed in. Many just stood still, watching as security took charge. When the band was informed, Keeler's band mate Sebastien Grainger told the crowd: "Alright, they're going to try and shut this s—- down, but we're going to keep on playing. How you guys doing? Welcome, welcome to the party."
Within a minute, the fence was replaced. The Beauty Bar security retained the fence's position and accommodated fans "both inside and outside of the venue." Gay writes:
Things seemed to be going well, the band resumed playing and everyone started dancing. Then, the riot police showed up on horseback. They sideswiped the crowd and used pepper spray on some fans. The band stopped playing and the fans outside the fence were given 10 minutes to clear the alley. If they didn't leave, the police threatened to cancel the show.
During those 10 minutes, the band "bought time by sharing jokes and chatting about hockey, Guns N' Roses and calling one's mom."
They finally were allowed to play again. Although the alley was supposed to be clear, fans rushed back and lined the fence.
Check out a video of police on horseback entering the area below.
Got news tips for Paste? Email news@pastemagazine.com.
Others Tagged With