Radiant Historia Review (Nintendo DS)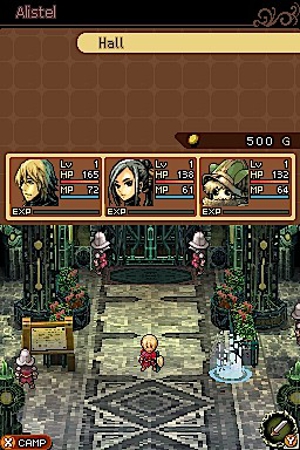 I'm a sucker for anime hair, apparently. I continue to play games that at first blush would seem to be for a far younger audience, and I can only guess that I do it for the hair. Atlus is a favorite purveyor of my drug of choice, with their large catalog of both localized/published and self-developed properties, many of which lure me in with the promise of wildly-coiffed, spritely characters and punishing levels of dungeon crawling RPG goodness. Radiant Historia is but another in a long line of my fixes, and, like any addiction, the joy I feel at the first hit becomes overshadowed by a slow realization that I'm really not having as much fun as I thought I would.
The setting and world building of Radiant Historia are fairly complex and robust. Two superpowers are engaged in a political and military struggle for dominance, each with a power-mad figurehead. The protagonist, Stocke, is employed by Special Intelligence in one of these countries, but also has ties to the regular military. Herein lies the first story-to-gameplay mechanic: his choice regarding whether to stay a spy or join the regular army as a soldier.
Stocke is cut from the same cloth that most players expect in a good old JRPG. He's a good enough sort, without too much of the angst that can kill a good solid adventure romp. He's loyal to his country, and bonds with his teammates when necessary. His character is less well-defined than the supporting cast, and I think this succeeds for the most part; nothing Stocke did pulled me out of the game too much, except his "thoughts," which are thinly disguised attempts to lead me through the mechanics of time travel and choice making, rather than true inner dialogue.
Speaking of dialogue, it's difficult to reconcile the storyline and its more nuanced view of good and evil with Radiant Historia's utterly atrocious character dialogue. Most supporting characters are thinly drawn, mere mouthpieces for exposition. At best, they are two-dimensional caricatures of their given personality traits. Did the developers not have a writer on their team with any skill at writing dialogue?
One of Radiant Historia's saving graces is the time travel mechanic. While it is not without fault, it at least produces a novel way to traverse the story. Stocke is able to use the White Chronicle to travel across a realm beyond time, which is known as Historia. The White Chronicle takes the form of an ancient tome, and it floats above the top down portions of the game map. There are portals dotting the map, which double as save points, healing spots (for a price) and an entrance point to Historia all rolled into one. It's a nice refinement of the standard save mechanic and it works well within the thematic arc of the game. There are specific points called nodes through which Stocke can travel to and from alternate historical events, which makes for a unique story map.
Moving from node to node, though, produces the same scenes again and again. While Atlus provides a handy fast forward mechanic, there's no way to simply bypass entire scenes. As a result, the time travel system actually maintains a very linear feel. While players can choose which nodes on the path they can travel to, it's still traveling the same line, however curvy it may be. Many of the "problems" that Stocke and company run into during one timeline merely require information or knowledge from a different timeline. It all seems forced.
There's a thematic mismatch between the concept of moving freely through time and its actual implementation, which boils down to moving from timeline to timeline much as other games would have players move from room to room. There are no ambiguous outcomes or multiple endings, since each node has a right choice and a wrong choice. Pick the wrong choice and the army gets ambushed, killing everyone. But if that happens, hey, no problem, Stocke can just hop back to the node where the choice is egregiously overemphasized and make… the other choice. Viola! Trial and error problem solving, time-travel style.
During combat, each team member in the party gets their turn in the limelight to use their admittedly cool skills, weapons or other items. Characters receive experience points for each battle, and they level up, learning new and more powerful skills along the way. Nothing novel here, right? Radiant Historia's enemies are laid out in a square grid, three spots to a side; players choose to use Skills, most notably "Push," to move enemies backward in the ranks and allow a second character to attack both enemies (now in the same grid spot) at once. Once this trick is mastered, however, the initially interesting combat mechanic doesn't evolve or continue to level up along with the characters. Instead of requiring different tactics or skill combinations to beat them, the game's later monsters are merely bigger and have more hit points. With a large amount of non-story-related battles in each new area, the tedium quotient quickly surpasses the initial joy of figuring out optimal strategies.
Radiant Historia isn't a bad game. It has all the great hairstyles and sexy joy of most of games of its ilk, and even manages to throw in a few unique new combat and story mechanics. Unfortunately, it is at times is pulled down by poor dialogue, thematic mismatches, the dreary sameness of its combat, and ultimately linear view of time travel. Fans of the genre who have run out of their own drug of choice may want to take a look at this one; most of the rest of us need to remember our own mistakes in the past, and maybe try something else. At least until the next fix comes along, wild, gravity-denying hairstyles in tow.
---
Radiant Historia was developed and published by Atlus. It is available for the Nintendo DS.
Rob LeFebvre has been a gamer since the 70's, when his family had a Magnavox Odyssey system and one of them mini arcade cabinet toys with PacMan on it. He's a daddy, a writer, a musician, a web geek, and a mac head, not necessarily in that order. He is also the editor at 148 Apps and The Portable Gamer and can be found on twitter @Roblef.
Watch the trailer for Radiant Historia:
Others Tagged With