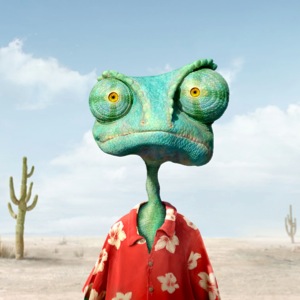 Director: Gore Verbinski
Writers: John Logan, Gore Verbinski, James Ward Byrkit
Stars: Johnny Depp, Isla Fisher, Ned Beatty
Studio: Nickelodeon/Paramount
Johnny Depp's disappearing act
The most surprising thing about Rango is how much Johnny Depp disappears into the character of a nameless pet chameleon who creates his identity when his terrarium falls out of the back of a car into the desert frontier. Unlike a certain cartoon panda, who was basically an animated version of every Jack Black character ever, Rango is no Keith Richards with an eye-patch or crazy barber/milliner/chocolatier. He's a cipher who becomes a fraud who becomes a hero.
For the most part, Pirates of the Caribbean director Gore Verbinski cast talented character actors like Harry Dean Stanton, Bill Nighy, Alfred Molina and Ned Beatty over more recognizable voices. Even Scottish/Australian lead Isla Fisher takes on a Texan drawl as the tough and independent damsel in distress Beans, struggling to hold onto her family farm in the wake of severe draught.
Water is currency on the parched land, and Beans (Fisher) is the only one who suspects foul play is causing its shortage. When Rango's tall tales earn him the role of sheriff, it's up to him to help quench the town's thirst for justice and prosperity.
Rango isn't a particularly good—or honest—sheriff, though, and his quest to find some kind of identity proves more difficult than it first seems. He must battle birds and moles and Rattlesnake Jake (Nighy), as well as his own self-doubts.
While the laugh-a-minute ratio might not keep pace with recent Pixar and Dreamworks fare, the film is a loving tribute to classic Westerns, featuring a Clint Eastwood look-a-like as The Spirit of the West. And with Roger Deakins (True Grit, No Country For Old Men) serving as a cinematography consultant, the desert comes to vivid life.
Most of Verbinski's choices, though, seem aimed at the moms and dads in the audience; I heard the grown-ups laughing at jokes like "it's a puzzle, a real mammogram" as much as the young 'uns responding to the physical comedy. Even the poster references the tripped-out Depp of Fear and Loathing in Las Vegas. I was genuinely surprised my kids liked the film as much as I did, and none of the characters seemed cuddly enough for fast-food tie-ins.
It's truly gritty, and that seemed to be what my kids (ages six to 12) loved about it. Kids don't always need primary colors and fluffy bunnies and 3-D effects. Sometimes a scrawny, ugly chameleon in the dirty Old West will do.
Others Tagged With